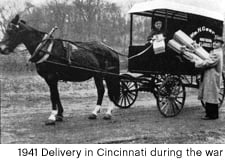 August 18, 1910, a group of forward-thinking florists met at the Society of American Florists (SAF) Convention in Rochester, NY and formed the country's first flowers-by-wire service, Florists' Telegraph Delivery Association (FTD). The retail delivery association was led by John Valentine, a Colorado wholesaler who wanted to help grow the retail floral industry, which was still dominated by growers and wholesalers.
1910s
In the beginning, the growth of FTD was a slow process with only 200 florist members in 1914. At the 1916 SAF Convention, members of FTD voted to split from SAF to form its own entity FTD, giving the 328 FTDA member florists the chance to chart their own destiny. Also in the early years, the well-known FTD Mercury Man was introduced (1912), showcasing Mercury, the mythical messenger of the gods. Over the years, the logo has taken on many different variations, but always features the famous winged man.
Click here to view the FTD Logo through the years!
1920s
In 1920, FTD debuted FTD News, the first monthly membership directory. The FTD Directory is still used today in a printed book format as well as online within FTD Mercury. On January 1, 1924, 3,000 FTD Member Florists were introduced to the FTD Clearinghouse, the first non-profit international banking operation in commercial history, which handled over 460,000 orders worth almost $3 million in its first year. The 1920's was a year of growth for FTD with the introduction of FTD's first Publicity Bureau. The group was very aggressive and creative in their marketing efforts. Annual revenues grew to over $6.3 million and the number of florists exceeded 5,000 by the end of 1929. Also in 1929, the FTD logo was copyrighted as the official trademark for FTD and was displayed in every shop.
1930s
Although the Great Depression hit the floral industry hard, FTD continued its strong advertising campaigns in the 1930s with radio shows featuring flower experts and merchandising celebrity endorsements from film stars such as Betty Davis and Jane Withers. FTD also entered its first prize winning float in the Rose Parade and revived the "Say It with Flowers" marketing slogan originally used in 1914. As the 1930s closed, there were over 7,000 FTD Member Florists and more than 2.1 million orders being processed through the FTD Clearinghouse.
1940s
As the United States entered WWII in 1941, FTD Florists experienced a shortage of many things from flowers to gas, tires and flower boxes. Many florists went back to horse-drawn carriages for delivery and flower shops became a sales office for war bonds. Resulting from the ban on travel, FTD cancelled its florists' conventions for three years and took a very aggressive effort to support the war effort and hosted programs to support all military personnel. This dedicated approach grew the clearinghouse business to $25.4 million in 1945 and more than 8,650 members at the close of 1949. In 1946, FTD launched both the industry's first and FTD's first test order program to assure quality and top performance from every FTD Florist. Quality and customer satisfaction remains a key part of the business still today. Also, in 1946, FTD joined British Unit and Fleurop, the three groups later became known as Interflora, Inc.
1950s
The 1950s was an era of aggressive marketing campaigns and more celebrity endorsements of FTD. With the introduction of the television, FTD hit the airwaves with a winning float in the first televised Rose Parade, was featured on the Ozzie and Harriet show and had FTD floral segments on the Today Show. FTD increased its print advertising campaign to 13 publications such as Better Homes and Gardens and Cosmopolitan featuring prominent entertainers including Kim Novak, Elizabeth Taylor, Dale Evans and Rosemary Clooney endorsing FTD and flowers. The media hoopla helped the FTD Clearinghouse surpass $63 million as over 8.2 million orders were filled in 1959. FTD processed over one million orders for the first time in May 1959. It was also during this decade that FTD changed its name to Florists' Transworld Delivery (1956) to reflect the international partnership that was flourishing with Interflora Inc.
1960s
FTD moved forward at a rapid pace in the 1960s. Clearings doubled from $63 million to $132 million and membership increased from 8,000 to 12,000. There were many firsts in the 1960s for FTD that contributed to its rapid growth. In 1962, FTD introduced the first FTD Selections Guide. FTD was featured on the cover of Business Week for its aggressive marketing efforts and for the newly introduced Selections Guide which was termed a "merchandising brainstorm". Another idea that was evaluated was the Test 90 Program, a three-month test of a privately leased telephone wire system to send orders. Although it did not continue after the three months, Test 90 was the first step in the development of the Mercury Network.
1970s
The 1970s may have seen gas shortages, but there was no shortage of growth for FTD and FTD Florists. Along with increases in aggressive advertising campaigns and the introduction of its first nationally advertised holiday special (FTD LoveBundle) in 1971, FTD officially launched the Mercury Network on August 8, 1979. By November 1979, 6,500 consoles were delivered to members and transmitted more than 11,000 orders per day. It did not take long for the Mercury Network to reach its one-millionth order, which occurred on December 13, 1979. At the end of the 1970s, FTD topped $350 million in volume, orders were at 18 million per year and membership was at its highest at 19,000 members.
1980s
During the 1980s, FTD developed many famous new bouquets, some that are still being merchandised by FTD today, including the FTD® Pick-Me-Up Bouquet®, FTD® Big Hug Mug® Bouquet and the FTD® Birthday Party® Bouquet. In 1983, NFL Hall-of-Famer Merlin Olsen was introduced to members as the new FTD spokesperson and was featured in advertising campaigns and appeared at various floral industry events. In 1985, FTD introduced the 800-SEND-FTD toll-free phone number. The industry's first design and education team was introduced by FTD in 1988 and many of the designers are still on the team today wowing audiences and demonstrating the latest trends at industry shows. FTD membership grew to over 20,000 at the end of the 1980s.
1990s
The 1990s provided FTD with great change and moved closer to John Valentine's original goal for FTD...to help grow the retail floral industry. FTD branched out from being strictly a clearinghouse for orders and more towards a full-service business solution for florists. FTD developed many new exciting business programs such as a telephone answering service (FTD Flowers All Hours) and a custom web site development and maintenance program (FTD Florists Online). FTD also recognized how technology was changing the way consumers' shop, so FTD expanded its efforts to promote 800-SEND-FTD. In addition, FTD created www.ftd.com in 1994 as another means to reach consumers that wanted an alternative way to shop for flowers. In 1999, a portion of FTD became a publicly-traded company on NASDAQ combining 800-SEND-FTD and www.ftd.com into one company called FTD.COM.
2000s
In 2000s, technology continued to be a vital part of the success of the floral industry. Consumers continue to look for new easier and quicker ways to shop. In addition, more and more competitors have entered the gift-giving category. This forced FTD and FTD Florists to truly embrace technology, create alternative marketing solutions and merchandise non-floral gift options to reach distinctive, fast-paced, tech-savvy consumers. Thus, www.ftd.com, FTD Florists Online web sites and Mercury Technology systems grew very rapidly and have become a critical business function to FTD Florists.
Today, FTD is revamping its signature black and gold branding and focusing its marketing campaigns on celebrating the talent and artistry of FTD Florists. To assist FTD Member Florists in the industry's highly competitive environment and challenging economic times, FTD has introduced various programs and services all aimed at helping increase florists' revenues and reduce costs. Programs such as the FTD Luxury Collections and the FTD Customer Choice Program provide florists with the opportunity to up sell the customer and significantly increase average order values. FTD is continuously enhancing Mercury Technology systems to offer florists state-of-the-art technology modules such as delivery and accounting integration, gift card options and marketing solutions to help streamline and advance their business.
On August 18, 2010, FTD will celebrate its 100th Anniversary and its 100 years of floral innovation. That spirit of innovation is still the driving force behind the FTD brand today. From new marketing initiatives to breath-taking floral bouquets to our cutting-edge Mercury Technology, FTD continues to lead the industry with creative solutions that help florists compete in this rapidly changing world. Our talented FTD Florists have been a part of the fabric of America for 100 years and an essential part of life's most memorable experiences.
Exotic Flowers, Boston's Premier Florist is proud to remain an FTD member in good standing. Did you know that Exotic Flowers in Boston can send flowers around the corner and around the globe. Trust your local Boston Florist to send flowers globally.