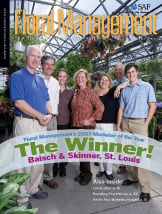 Boston, MA - September 2010
Rick Canale, the Managing Director of Exotic Flowers, Boston's Premier Florist and www.exoticflowers.com has been chosen by the editorial staff at Floral Management Magazine to serve as a judge for the 16th Annual Marketer of the Year Contest.
Floral Management Magazine is published monthly by the Society of American Florists (SAF), the Association provides marketing, business and government services for the entire floriculture industry. Floral Management Magazine is a member benefit of SAF.
A $5,000 cash prize, sponsored by Design Master color tool, Inc., as well the the opportunity to be on the cover of the October 2010 issue of Floral Management.

What Makes a Winner?
Judges look for unique, innovative and successful marketing efforts. It can be a single campaign, or a series of promotional and advertising efforts over the course of a year or more.
Rick Canale won the contest in 2008 and has been asked to return as a judge for this years contest. Rick is one of seven judges from the floral and media industry.
"I am proud to serve the industry and my peers. This year's contestants inspired me in my own flower shop. The contest is a great opportunity for the floral industry to implement some marketing savvy in their own operations. I cannot wait to see the results at the SAF Convention in Orlando. " - Rick Canale