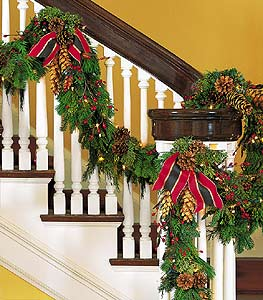 Did you ever decorate your home with Christmas garland for the holidays ? If not, now is the time to start your own tradition. Live evergreen garland can decorate banisters, light poles, mantles and doorways. Although garland can be artificial, the staff at Exotic Flowers firmly believes in fresh evergreen garland. We often say, 'real garland means real Christmas.'
Christmas garland can be ornate or simple. Some use simple long needled white pine roping. Some Bostonians look for mixed greenery which includes balsam fir, noble fir and berries. Some even add light strings to their garland. At Exotic Flowers in Boston, we offer all the ingredients for Christmas garland. We even install holiday garland in homes in Boston, Canton, Brookline and Beacon Hill.
Evergreen garland often comes in twenty and thirty foot rolls. Of course we can sell you any length your home requires. Fresh evergreen garland not only enhances the beauty of your home but also brings the scent of Christmas into your home.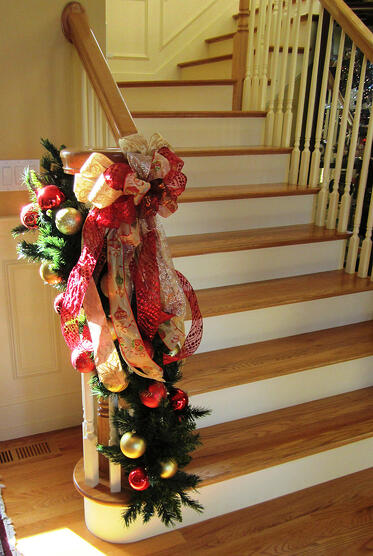 photo credit Flower Factor
Evergreen swags are another great option to decorate for Christmas. Swags are made from evergreen sprigs tied together. Swags in the Boston area are created with Balsam fir, Cedar, boxwood and a combination of berries and cones. Swags are often hung vertically with a bow added for color. You can hang a swag anywhere you would hang a wreath; of course the front door is most popular. The swag is often the most economical alternative to a wreath.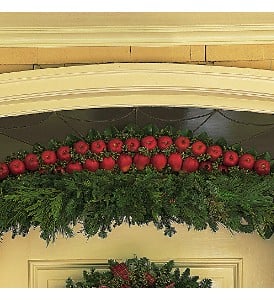 Another great idea for decorating the outside of your Boston home for Christmas are mixed evergreen planters. In place of pots filled with geraniums, the staff at Exotic Flowers will install mixed evergreen planters on your front steps. These planters often include balsam fir, fraser fir, cedar, pine cones and white birch. The best part of these planters is their durability. They often decorate the front steps of Boston area homes throughout the winter.