There's nothing like reading a good book but when you couple it with a beautiful flower arrangement, what could be better? "Books in Bloom" is a new trend that is sweeping libraries, bookstores and flower shops throughout New England and is showing both flower and book lovers a clever and creative approach to combining the two things they love most in this world. Perfect for display work or events, this interesting way to dress up a great story not only proves successful within increasing customer and patron visitation, but it can also initiate a positive marketing effect for book and floral sales. Due the fact that merchandizing can become stale over time for both industries, this idea is a perfect way to amp up an organization's style with an ingenious and imaginative fresh way to exhibit product lines.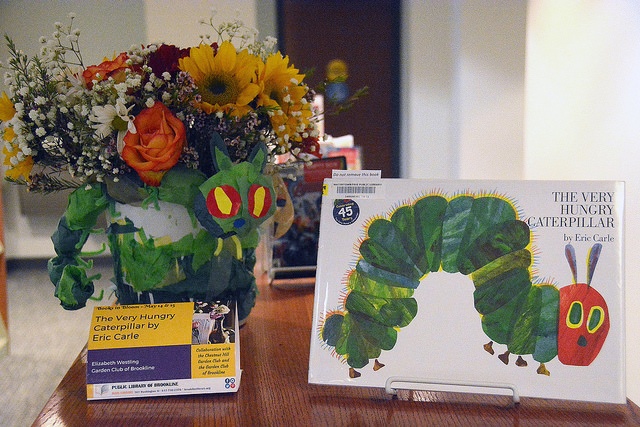 photo credit: Flower Factor
So how exactly does it work?
Thanks to our city's talented florists, designers are able to recreate a physical reflection of the content stored in some of our favorite titles by selecting particular varieties and showcasing them next to the book. As patrons glance at the arrangement, their mind is believed to connect the pleasurable eye candy with the actual book, encouraging the reader to engage with the material at a more enjoyable level. The architecture of the floral pieces can be simple or elaborate depending on the details of where they are to be shown and props are encouraged to be included as well. The great thing about "Books in Bloom" is that this concept works for both children and adult novels, making almost any book in a library you see possible to include within the presentation. Of course certain titles work better than others such as "The Hungry Caterpillar" and the "Great Gatsby" so selecting the books should be carefully calculated beforehand.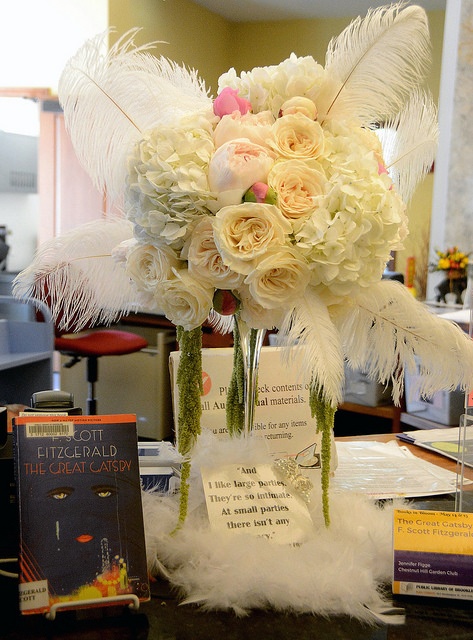 photo credit: AboutFlowers.com via Flower Factor
By designing arrangements that mimic the essence of the media, we can foster a whole new level of appreciation for reading and foster a blossoming love for literature.
Here are a few examples of my favorites!