Bakers love the holiday season because there is a vast assortment of ideas to create delicious edibles including cakes, pies and particularly, sugar cookies! After all, you can't have Saint Nick make his annual visit without leaving a few morsels of yummy sweets, right?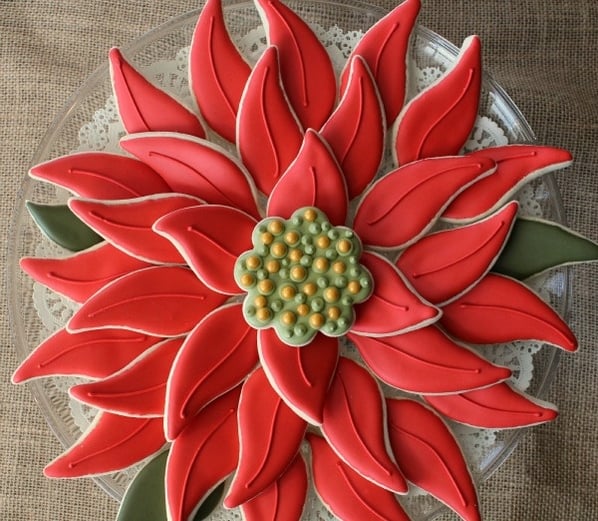 photo credit via sweetsugarbelle.com
Christmas cookies are by far the most fun and certainly the most beautiful out of all traditional seasonal desserts. Creative chefs can let their imaginations fly when coming up with new shapes and images, making their presentations even more impressive.
Although snowflakes, pine trees, ornaments and stars are among the most popular themes during this month, garden lovers will be overjoyed to see the new trend of "flower sugar cookies" climbing in demand! From happy daisy faces to poinsettia plant designs, horticultural elements are beginning to turn up in several Boston bakeries and floral shop owners couldn't be more excited! Not only are upscale supermarkets and restaurants using the new fad to gift patrons with samples but florists are also jumping on the bandwagon and adding satchels of these cookies to holiday orders. Pretty smart, huh?
For the experts, this is an easy task but for those who neglect culinary brilliance, baking can seem a bit overwhelming. Honestly, who hasn't burned a cookie sheet or two in their day? Thankfully, there are hundreds of recipes that are simple to follow including this one from the Food Network. Grab your aprons and rolling pins and lets get baking!
Ingredients: Cookies
1 cup unsalted butter 1 large egg
1/2 cup light brown sugar 2 teaspoons vanilla extract
2 cups flour 1/4 teaspoon salt
Ingredients: Icing
1/4 cup water 2 cups confectioners' sugar
3 tablespoons egg white powder Candy, sprinkles, dots, chocolate chips, ANYTHING SWEET!
Preheat oven to 350 degrees. Beat the butter with vanilla extract, egg and brown sugar until blended. Slowly add the flour and season with salt to make the dough firm. Freeze the dough for 20 minutes and then begin to carve and shape cookies with cutters or free style. Place in oven for 20 minutes and watch their edges turn golden brown. Cool cookies for another 20 minutes before decorating.
Whisk together the water, egg powder and confectioners' sugar until smooth. Add desired coloring of food dye to create color and immediately apply to cookies. Decorate with candies and let them sit for an additional 30 minutes icing to set.