here are so many reasons why we nurture a garden and one of those reasons is because we love to watch beautiful things grow. Like many green thumbs of New England, we enjoy to watch our efforts from start to beginning, as each bloom unfolds with brilliant color and alluring scent. In terms of visual and aromatherapy benefits, nothing beats a perennial garden in full maturity during the pleasant summer season. I look forward to mine every summer…
Last year, a friend of mine told me how much they liked my garden and how they wished they could grow one similar. I thanked her for the compliment and asked rather dumbly, "Why don't you?" She soon explained that it wasn't the time it took to complete the project but the cost to supply the plants. It was just too expensive. Immediately, I began thinking about ways to solve this dilemma remembering all of the hefty nursery bills I myself had gathered over the years in order to accumulate the dozens of varieties nestled in my backyard. I came to the conclusion that yes, the price to grow my masterpiece had in fact added up to be considerable.
So after this realization, an idea came to me that would both increase the number of plant varieties in my garden without having to buy every one of them myself. I called it a "Clippings Party" where the idea was to invite all of your friends over with one sample they had collected from their own gardens to be traded with other the other attending guests. The preparation would be simple enough by readying a specimen by cutting the stems from a preferred plant and re-growing its roots by placing it in a cup of water. Most plants will re-root in about a week or so although others take longer so it would be important to send invitations at least three weeks in advance. Depending on the flower or greenery, you can also pull apart a small portion of a plant with roots already attached if the base is strong enough. Have all of your guests replant the starter sprout in a Dixie cup full of soil and allow them to swap with others!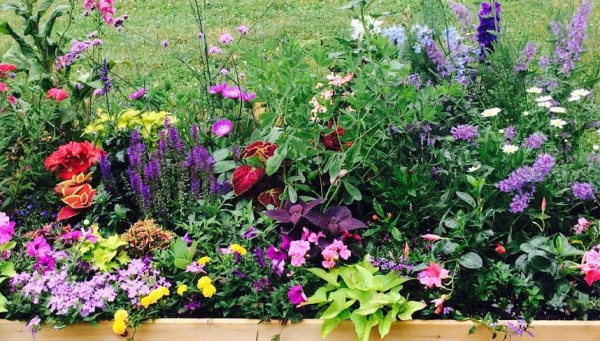 This practice isn't only financial effective in staving off high prices at the garden center but it's also a lot of fun too! After doing a little research, I learned that this type of entertainment is quickly growing, particularly in the New England area. You can host a fast and casual trading session or make a night out of by throwing a clippings bash! Party games appropriate for this soiree can also be used to create a festive environment such as using the "Yankee Swap" tradition or playing trivia rounds where the clippings become the player's prizes. Doesn't that sound like so much fun?
So the next time you become frustrated with paying loads of money to watch your garden grow, think about throwing a "Clippings Party" to help all of your fellow green thumb's foster a triumphant garden this season!