We had a lovely time over December, hosting parties, serving delicious cuisine and opening up presents underneath the Christmas tree. It was magical, right? But how on earth do we even begin to cleanup the mess that's accrued in our house during the holiday season? Honestly, it can be a tad bit overwhelming as to where to begin such a process! There's the lights, ornaments, special dishware, linens, Santa Claus figurines, Nutcrackers, stockings, garland, wreathes and last but not least the tree to remove so how do we get it done? Don't feel overwhelmed, there is an organized system for Christmas cleanups that will swiftly and safely get your home looking the way that it did pre-holiday season. So take a deep breadth, roll up your sleeves and get cracking!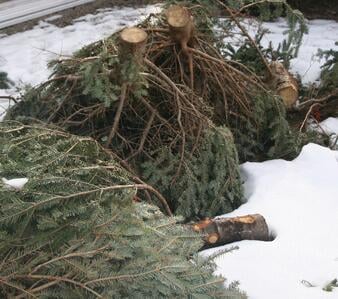 The first thing that you should do is carefully remove the stand and all of the ornaments from the tree. Decide which can be stored and which should be disposed of if perishable (example: children's cookie cutter ornaments or fruit based ornaments). Carefully wrap those that are delicate or highly breakable to avoid shattering and then place in a clearly marked box, "Tree Decorations". Remove the lights off all branches and either throw away or wrap tightly for next year. Whether you are planning to toss the arbor into the forest or bag it for the town to collect, lights are non-biodegradable and need to be removed in a responsible manner. Boston Public Works will be collecting trees for composting from December 29, 2014 to January 9, 2015. If you leave it on the curb on your recycling day without placing it in a bag, they will handle it for you.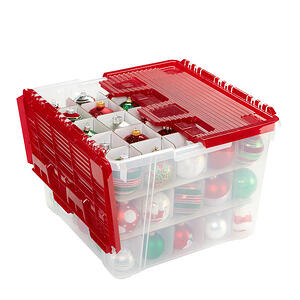 Photo credit:www.containerstore.com
Once the tree is taken care of, it's a piece of cake. Get your broom out and do a preliminary sweep of the area to get the bulk of the needles and then do the final pick up with a vacuum cleaner. It will cut down exploding bags full of pine and brooms are an energy efficient "green" method of cleaning. Next, pack away the left over Christmas nick-knacks in containers that have labels, you wont want to be blindly searching in the attic next December. Remove all other greenery including wreathes and garland by placing in an environmentally suitable location (again, with no non-biodegradable items attached) or contact the City of Boston for suggested trash sites. Once this has been accomplished, find all tablecloths, hand towels, napkins, table runners, Christmas dishware and any other washable fabric thematic after the holidays and do a thorough cleaning. After they are sparkling, store with the other decorations or in a moisture-free space where they can be used again for years to come. Last but not least, give yourself a pat on the back for a Christmas Cleanup well done!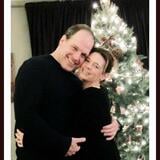 Rick and Suzie Canale, Westwood, MA Christmas 2014
Suzie is incredibly organized and always has her Christmas down before the New Year.