If you're a soon-to-be bride planning on walking down the aisle this August, you'll be happy to know that this month plans on being the best time of year for wedding flowers! What makes this month so special when selecting blossoms for bouquets and centerpieces? Well it just so happens that the top Boston designers are planning on "wowing" their clientele with trendy options that promises to shy away from the traditional summer of long ago style. I know we appreciate the pure as white look and the blushing pastels that have graced the cover of magazines for decades now but don't you think it's time that we've shaken things up a bit? Can't we find other options to incorporate our favorite garden blooms without designing the same bouquet over and over again? Well according to floral experts, their answer is yes! By showcasing a contemporary color palette and adjusting architectural style, these hot-shots are saying, "look out bridal world, there's a new trend hitting Bean Town!"
Take a look at these fresh and favorable designs that our blushing brides are excited to dawn during their special day…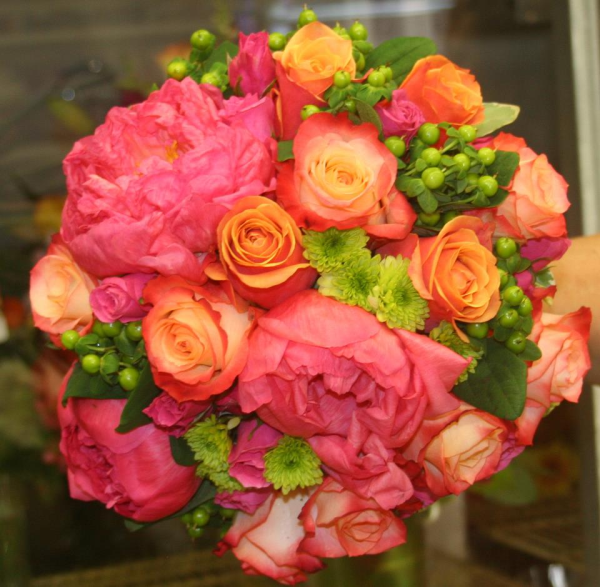 Orange is the flavor of the month and florists are incorporating this color within every square inch of their wedding planning. From bright orange to a softer peach, this interesting hue is bringing shock and awe to all, particularly to those who are attracted to the happy and bright pop of shine. Varieties that are being heavily requested are mokara orchids, cymbidiums, celosia and even some species of sunflowers, which hold the summer kissed tint. Also watch out for the re-introduction of orange lilies, which are becoming a popular bridal flower once again!
Lime green is also a recurring flavor, which is being added to more and more pieces because of its property to easily contrast with several other shades as well as a perfect symbol of the summertime theme. Green hanging amaranthus is specifically one example reflecting this style and designers can't get enough of it for high vase work and even bridal bouquets.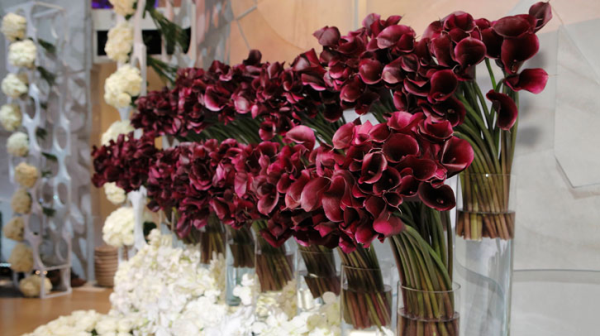 Photo credit: via Jeff Leatham
"Black is the new red" might seem an unlikely idea but dark burgundy and purple flowers are being regarded as a high commodity right now. Black callas reign as the most popular crowd pleaser, especially when grouped together in mass clumps or mixed together with pure white stems of hydrangea or orchids. Yes this style is for the sophisticated but if it appeals to you, your photographer will adore your decision when shooting the black and white portraits for your wedding album.