Okay… Okay… Who out there is starting to wonder when the heck temperatures will rise again suitable for human existence? Nine degrees? Five degrees? Negative 2 degrees? I mean, seriously- are these weather conditions or points on a graph? It's no wonder why we're all a bit cranky due to wrapping up under fourteen layers of fleece, wool and down comforting material. Who wants to appear like the Abominable snowmen every day they show up to work or (god forbid) out on a date for dinner? It's almost embarrassing the outerwear we're required to wear to deflect the nastiness of the frigid New England winter. It's a tough season with tough conditions so we need to do all we can do to push ourselves through to sunnier days ahead.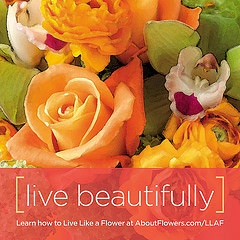 By now if you're a real local, you probably have a list of useful items and practices that help you trudge through the harsher days of the calendar. Good book? Delicious casserole recipe? A wood burning fire? These are all great ways to evade the ice and cold associated with this time of year but if you're into flowers- I may have my own tip in mind for you! It's a fact that growing plants and flowers can lift up your mood so why is it so unbelievable they may be able to warm are thoughts too? I dare you to disagree with the notion that placing comforting knickknacks around your home can actually decrease aches, pains, depression and anxiety based emotion. Throughout time, people have been implementing their own personal touches of therapy when the snow outside keeps falling so it's high time you tried a little botanical magic to include in your practices, too. Here are a couple of the best blooms to brighten the forces of warmth and keep you nestled contently until the spring rolls around again!
Color
This is probably an obvious factor but it's one to bare reminding if you don't already know… Flowers that typically symbolize warmth usually tend to be grown in shades of red, orange and yellow. Clearly-this is based on the association with fire but funny enough-the color combo works. If you're not into this scheme, data shows that blooms harvested in dark purple are efficient as well so search for plum hued blooms like calla lilies, ranunculus, and hyacinth.
Varieties that Look and Act Fantastic as Floral Warmth Givers:
Orange Mokara Orange Roses Yellow/Red Sunflowers
Red James Story Orchids Eggplant Lisianthus Purple Lilac
Red Amaryllis Plum Hydrangea Black Eyed Susans
Orange French Tulips Purple Anemones Yellow Marigolds
Red Amaranths Purple Sweet Pea Chocolate Cosmos