If you know a little about flowers, you're well aware of the rules to follow if you want to make your centerpiece last:
Clean Water

Fresh Stem Cutting

Quality Supplier

Temperate Thermostat Conditions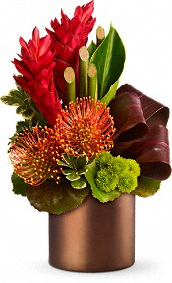 The last one is particularly important, especially if you're trying to pick up the perfect vase of blooms for a friend. Living here in New England, there is a wide skew of preference for setting indoor temperatures, depending on both your internal comfort as well as the time of year. While many of us do just fine in our homes setting the heater on 65 degrees, others like things to be just a tad bit warmer at 70-75 degrees. Here's where we head for some trouble… If you know the person you are gifting flowers to is habituating in conditions similar to Florida, then we need to select varieties based on that factor. Certain species have absolutely no shot at surviving in homes with heat standards hovering towards the tropics and will prove quite disappointing fairly soon after receiving the bouquet. Don't think about calling your florist to complain either because some of the responsibility to maintain healthy blooms should fall on you. Expecting a bunch of tulips to preserve its beauty in a space with temperatures held in the 80's in just plain ludicrous so you'll want to do a little research before sending fleurs to a loved one in a hospital (they are notoriously sweltering hot) or to a neighbor who likes to walk around in t-shirts in the middle of the winter.
Don't lose hope though… Lucky for florists (and you), we've found plenty of species that are both stunning to gift as well as tough against typically undesirable locations. While roses may not be the best option in cases like these, you'll be happy to know there are a slew of others that are just as attractive to present to a family member or friend. Jot down the names that appeal to you and ask a local florist about availability the next time you want to send flowers to someone with warmer weather condition preferences.
Do Ask For:
Orchids: Especially Phalaenopsis and James Story
Cymbidiums: Green do particularly well in the heat as long as they are fresh
Birds of Paradise: Native to the rain forest
Ginger and Protea
Succulents
Do Not Ask For:
Lily of the Valley
Sweet Pea
Garden Roses
Peonies
Ranunculus