Snowflakes are beginning to fall throughout New England and we are making our plans for our holiday décor! We'll be hanging wreathes, boughs and lighting throughout our homes in the hopes that these festive additions will bring joy to our family and friends. For Boston florists, they're making their lists as we speak to prepare for customers who wish to spread the spirit with decadent blooms. Poinsettias, pine ribbing and myrtle garland always make the top of the list but this year, we're seeing an interesting trend emerge…
A plentiful variety of orchids are being featured in designer magazines where their customary implant within urns and vases are extending into other areas of Christmas grooming. While the tropical flowers still remain as a substantial part of December centerpieces, they're also being used as trimming for the tree! If you think about it, this is a clever idea for several reasons including their impressive longevity when placed in water tubes and the wide spectrum of color available from most species. You may have seen flowers such as roses and baby's breadth hung from balsam boughs in previous years but this new implementation of fancy fleurs is sure to turn heads and outlast past varieties. Flower lovers have always adored the idea of pruning with their favorite blooms but are often disappointed by the cost and maintenance. If fussy flowers are chosen as ornaments, the upkeep to maintain a lively looking display for the duration of Christmas may prove extremely difficult.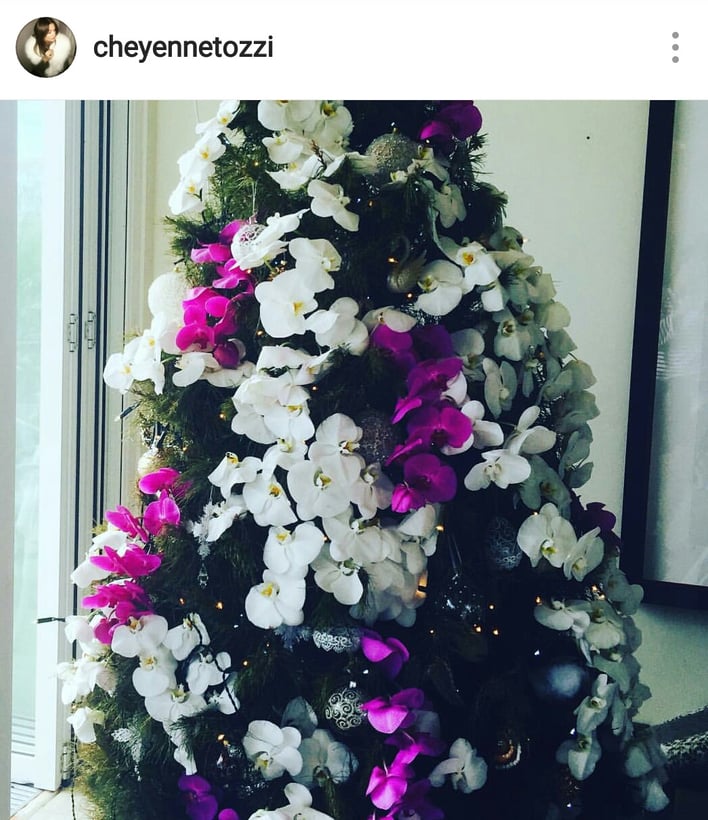 photo credit via Cheyenne Tozzi's Instagram Page
That's why orchids are the solution to this problem and can be enjoyed long after the season if cared for properly. Here's a list of favorites that are sure-fire winners for vase and tree trimming this holiday season.
Cypripedium
Not only are these orchids strong and resilient against heat and cold, but they are also grown in the perfect hues for Christmas-chartreuse green and white. The heads make them noticeable among other ornaments as well and provide an interesting conversational piece for guests.
Phalaenopsis
Phalaenopsis are one of the most popular orchids around the world and due to its impressive beauty, there's little argument as to why. A single head is large enough to be placed in the tree alone or you can choose large branches to drape across the branches. White remains the most requested color, although this species also comes in shades of pink, yellow and peach. If you really want to get creative, inquire from your florist options for dyed heads.
James Story
This is another great option due to its coloring, which is deep red or crimson. The florets are shaped as small stars that are delicately grown up a slender stem. Designers are most likely to place James Story in water tubes and use along side other orchids that are white or brightly colored.