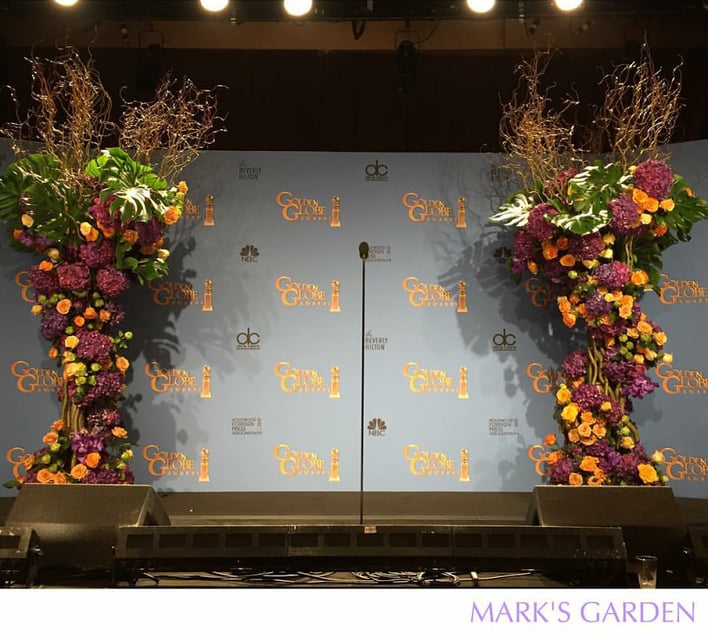 photo credit via Mark's Garden, Los Angeles, CA
As many of you who sat in front of their TVs on Sunday know, The 73rd Golden Globe Awards were telecasted at 8:00pm with Jimmy Fallon hosting the event. There was a lot of news that generated early in the evening such as celebrity wardrobe, top picks for wins and of course, Meryl Streep's unforgettable speech about changing the world. It was the typical Hollywood glitz and glamour you'd expect accept this year's real head turner weren't the ones walking the red carpet. No, the real show stopper were the insanely stunning arrangements that graced each table throughout the room and I'm not talking about Carrie Underwood's interesting pink rose appliqué gown. Audiences were supposed to be held captured by the anticipation of who would win the next shining gold trophy but in all honesty, the floral designing was what made the night complete.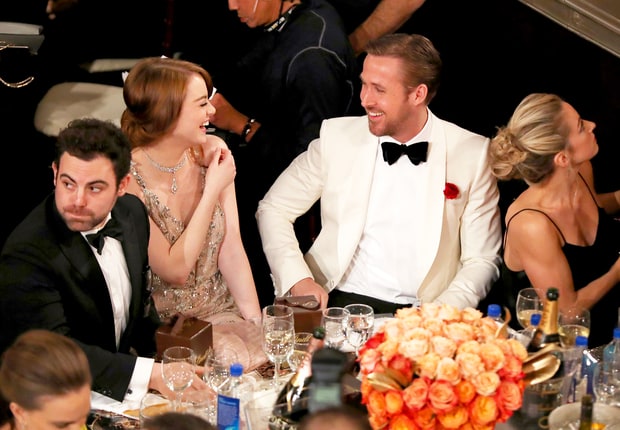 photo credit via US Magazine
Mark Helms, owner of Mark's Garden, was the florist responsible for the amazing massive, globular creations and true to his reputation-his work was once again handed a standing ovation. For years, he's been crowned the premier florist to the stars, serving A-List names with an abundance of beautiful blossoms and has grown to become a household name on Beverly Hills. Mark holds no expense back when it comes to impressing his clients and the Golden Globes were no exception. The floral mogul flew in over 15, 000 roses from Holland and South America, displaying a chic combination of orange hues. Fashion reviewers are claiming that actors and actresses opted for fabrics toned in metallic and yellow, which Helm's floral contribution complemented to the "T".
If you missed last night's winners, here's a complete recap of what was hot in 2017.
Movies
Best picture, drama: "Moonlight"
Best picture, comedy or musical: "La La Land"
Actress, drama: Isabelle Huppert, "Elle"
Actor, drama: Casey Affleck, "Manchester by the Sea"
Actress, comedy or musical: Emma Stone, "La La Land"
Actor, comedy or musical: Ryan Gosling, "La La Land"
Supporting actress: Viola Davis, "Fences"
Supporting actor: Aaron Taylor-Johnson, "Nocturnal Animals"
Director: Damien Chazelle, "La La Land"
Screenplay: Damien Chazelle, "La La Land"
Animated film: "Zootopia"
Foreign language film: "Elle" (France)
Original score: Justin Hurwitz, "La La Land"
Original song: "City of Stars," "La La Land"
Slide Show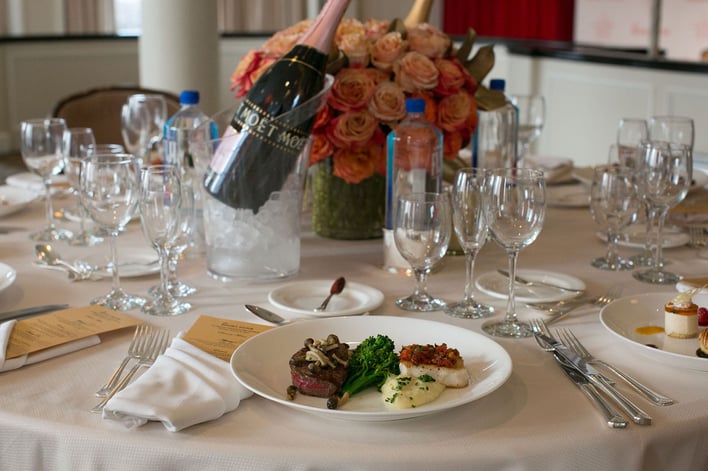 photo credit via people.com
Television
Best series, drama: "The Crown," Netflix
Best series, comedy or musical: "Atlanta," FX
Best television movie or mini-series: "The People v. O.J. Simpson: American Crime Story," FX
Actress, mini-series or television movie: Sarah Paulson, "The People v. O.J. Simpson: American Crime Story"
Actor, mini-series or television movie: Tom Hiddleston, "The Night Manager"
Actor, drama: Billy Bob Thornton, "Goliath"
Actress, comedy or musical: Tracee Ellis Ross, "black-ish"
Actor, comedy or musical: Donald Glover, "Atlanta"
Supporting actress: Olivia Colman, "The Night Manager"
Supporting actor: Hugh Laurie, "The Night Manager"