Great Colors for Hanukkah Arrangements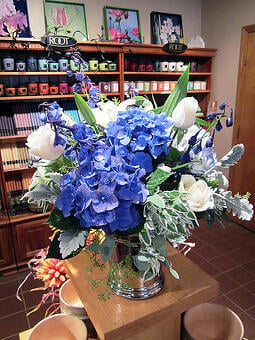 Hanukkah is a special time to celebrate with friends and family where the festivities include beautiful candles, delicious foods and elaborate decorations, particularly floral centerpieces. Traditionally, the colors used within the arrangements made for The Holiday of Lights are blue and white but that doesn't mean that we can't step out of our comfort zone and try new palettes of design! Hanukkah demonstrates an explosion of color throughout the flickering of menorah light and scrumptious homemade cuisine so why not incorporate these two concepts together? Now, you're probably thinking that contemporary vase work ideas will be too ostentatious, perhaps composed of chartreuse and hot pink, a combination maybe be unsuitable for your holiday table but I assure you there is another way…
How about we mix and match using some of the more recognized colors with a new flash of color! Although there are millions of combinations, these are my favorites for Hanukkah celebrations!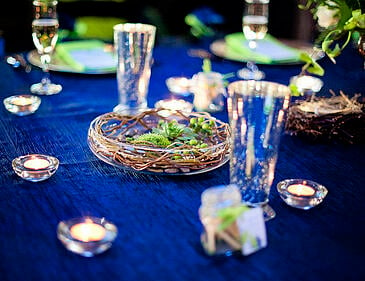 Blush, cream and white are extraordinary together because they compliment one another to blend a stunning and elegant floral presentation. Beautiful as a larger center centerpiece or utilized within small accented bud vases, these tones create the ideal dining décor by promoting a stately but relaxing visual appeal. White flowers are numerous in many species but hydrangea, lisianthus and roses are excellent choices. Hydrangea also works well within the cream category as well as roses and lisianthus. For your blush, spray or garden roses are very sweet or you can pick gerberas as the pink accent, which can be bought in many varying shades. If you still think your vase needs a little added color, carefully tuck a conservative amount of greenery sporadically throughout the arrangement. My go to greens are usually October weed, lady's mantle or lambs ear.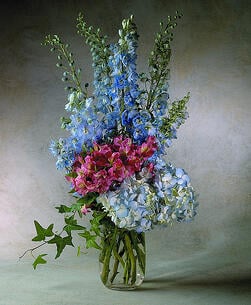 You'd be surprised but blue can be easily intertwined with yellow so keep this in mind as a possible option for your Hanukkah florals. The bold colors are sensational and reflect the theme of light, joy and happiness quite well. If the pairing is too bright for your taste, try mixing in a few stems of white or cream to soften the look. September weed, freesia or lace flower are great choices because of their breezy and flexible appearance. Stay away from larger headed blooms such as white pom poms, tulips or lilies because they will clump up the piece and deter from the grandeur style that we're shooting for. For your blues, try stocks of delphinium, mountain thistle, statice or hydrangea. Possible yellows could include roses, freesia, sunflowers, lilies or even football mums but this shade is also available in a massive selection so select something that really reflects what you love!
all photos in this blog post can be attributed to Flower Factor and Aboutflowers.com

Suzie Canale, Boston MA Summer 2014
Suzie grew up in Andover, MA and is a graduate of Salem State College.