New Years Eve dinner is one of the most anticipated meals of the year where dishes are slaved over to ensure a tasty feast for all who sit at their holiday table. Including delicious sides of mashed potatoes, squash, green beans and more, guests look forward to the eclectic presentation of food served for this celebration. Although cuisine varies from plate to plate, the main course usually includes a roast that can be prepared in several different ways depending on the host prefers. While different seasonings, glazes and even oven temperatures will vary, there is a simple recipe for those who new to cooking their very first New Years Eve dinner. While we might be anxious about the pressure to perform perfection, I assure you there's an easy way to make sure your roast will turn out scrumptiously. Follow these steps and you too will have a New Years Eve dinner with a main course fit for a king!
Ingredients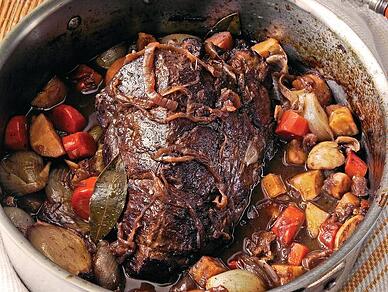 Roast
1 Garlic Clove
Cream of Mushroom Soup
1 Yellow Onion
2 Stalks of Celery Baby Carrots
Red Potatoes (Quartered)
Ken's Italian Dressing
2 Leaves of Sage
Rosemary
Parsley
Salt photo credit: Seriouseats.com
White Pepper
Preheat oven at 325 degrees and place the roast face up in a roasting pan. With a knife, slice 1inch slits on the surface of the meat making sure to spread the cuts at least 1 ½ inches apart from one another. On a cutting board, thinly slice the garlic clove to produce at least 7 separate pieces. Insert one garlic slice into each whole pressing the seasoning down deep. Lightly dust the surface with salt, pepper and parsley, afterwards spreading the cream of mushroom soup over the top of the roast, which will sink into the meat and create a wonderful taste while cooking. Then slice the yellow onion into ringlets and place over the glazed mixture. Place the two sprigs of Sage delicately across the top, which will not only add to the unbelievable flavor but will also enhance the presentation of the dish. On the bottom of the dish at the top and bottom of the roast, add the baby carrots and quartered red potatoes. Sprinkle the veggies with a dash of salt, pepper and rosemary herbs and drizzle the Italian dressing on top. Toss the vegetables together making sure that all of the ingredients are fully covered with the marinade. Place the celery stalks on each side of the roast now completing a box around the meat. Place in the oven for 2 hours and you have yourself a dynamite meal to serve for New Years Eve dinner!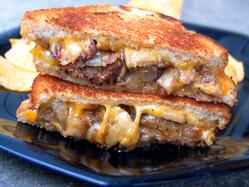 and what could be better on New Years Day than a pot roast patty melt ?
photo credit: cassiecraves.blogspot.com

Suzie Canale
Westwood, MA
Suzie's New Year's tradition is writing her and her family resolutions and sending themm out to sea as a message in a bottle.