For many of us, we show our love for mom on Mother's Day with a beautiful bouquet of flowers, a sentimental Hallmark card or maybe even a gift certificate to her favorite spa. These great gift ideas certainly rank high for holiday presents but the number one choice still holds at taking your special lady to brunch. Boston has no shortage of fabulous restaurants with menus that include delicious cuisine fit for a queen but maybe you're interested in another route? What if what if we put a homespun feel towards this year's festivities? The truth is, brunches prepared by families at home are becoming more and more popular, resonating back to traditional Mother's Day celebrations. After conducting a few comparisons, I've got to tell you, there are a lot of benefits tied to this new trend. For starters, there are no reservations to be made, no disappointment with ingredients or diet concerns, no traveling required and first and foremost, no excessive food charges that will skyrocket the bill. Cooking your own feast for mom does however allow flexibility within dish selection, an open door to whomever you wish to invite and the opportunity to personalize the event with your mom's favorite foods, decorations and flowers. If you're interested in hosting your own Mother's Day brunch instead of dining in one of our city's eateries, here's a sure fire way to make all of your guests (and most importantly the guest of honor) enjoys this special day!
The Menu
Make the meal as simple or as sophisticated as your culinary skills will allow you to. Croissants are a great way to start along with other pasties and muffins. Recipes containing eggs are another smart beginning where you can make easy scrambled eggs or more elaborate dishes su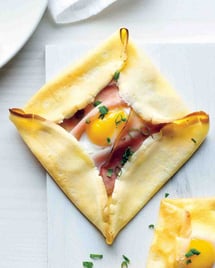 ch as Martha Stewart's Ham and Egg Crepe Squares. Roasted meats such as ham or roast beef are also popular for an impromptu carving station. Scalloped potatoes will also be a hit but if you're looking for a lighter meal, spuds infused with olive oil and rosemary are a superb substitute with fewer calories. Don't forget the beverages, too making sure a tray of coffee, juices and tea are available for guests. Mimosas should also be pre-made because it is after all Mother's Day-she deserves it! photo credit marthastewart.com
The Setting
You're going to want to dress things up a bit since it's Mother's Day so plan a trip to your local florist for a fresh bunch of peonies, garden roses, lisianthus, scabiosa or French tulips. Arrange them in the center of the dining table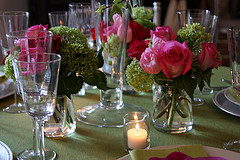 in one of her favorite antique vases or urns and she'll appreciate the effort to make Mother's Day even more special with spring blooms. Linens don't have to be fancy either just make sure they don't distract from the centerpiece or the food being served. Older serving trays are perfect for this look particularly platters resonating an English appeal. Serve formally or buffet style but make sure you recruit some helpers to clean up afterwards because it's mom's day off! Happy Mother's Day!
photo credit: Flower Factor