Boston is starting to slide into another season and so aren't thecity's florists who are changing their palettes accordingly. The soft pastels and vibrant green and blue hues that traditionally grace the floral vases of summer are beautiful but it's time to swap things up! Warm tints of gold, red, sienna and emerald are just what we're looking for to dramatize our creations and omit a seducing taste of what autumn has to offer. Texture, tone and container selection are all part of fall's new style with simple designs that you can even recreate at home! Here is one I whipped up over the weekend that reflects this current fad of flowers, which was not only easy to make but really inexpensive as well. Here are the steps to achieving these three seasonal arrangements for your bedrooms, living rooms or kitchens!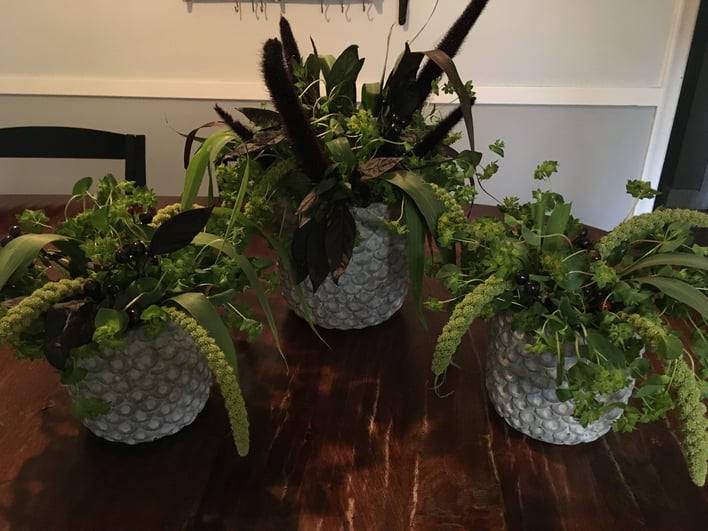 What you'll need:
A watertight container

. Preferably a ceramic dish, bowl or planter that has a bit of wear and tear. The chips or faded color will just add to the appearance of the arrangement and reflect a fuss-free style.

Flowers, flowers, flowers!

Either take a peek in your backyard or visit a flower shop for these fall ready varieties. If you have one close by, hit a farm stand-they usually have freshly picked goodies that will last and last. In these pieces, I've chosen green amaranths, black millet, October-weed and black privet berries but exchange any of these for other options available that you prefer as long as you don't spend double the amount. All of these flowers cost me less than $25.00 from a nearby farm with fill ins from my own garden so look for the native blossoms first that are usually low in cost.

A pair of cutting shears.

Try not to use scissors but if you must, cut the stems on an angle to avoid shredding.
As Simple AS 1-2-3:
Fill your container up with warm water-NOT HOT! Steamy water will kill the flowers faster than anything else so keep the temperature moderate.

Start with the variety that is most "bushy" and cut the stem to the desirable length, making a globe structure. Once you have the base, add in the rest of the flowers placing them strategically throughout the arrangement. Avoid clumping too many of the same varieties together in one place- it will make your design look "clumpy".

Use whatever sprigs are leftover and place them in bud jars for the bathroom or entryway. Never, Never, NEVER throw out flowers that can be used somewhere else and ENJOY!