Being a HUGE flower lover, I often wonder about what other countries are growing compared to the United States. Here, are most popular varieties usually include roses, hydrangea, sunflowers, mums and tulips but elsewhere, the answer might be significantly different. Depending on where we are in the world, there are assorted growing conditions, which make some plantings of flora and fauna more successful in one area compared to another. Temperature, soil acidity, humidity and the abundance of water sources all go into the formula of a nation's vegetation and particular horticulture. If we are to visit the desert for example, we might see samples of cacti that need dry soil and little water. If we visit a rainforest, we're probably going to notice orchids and banana plants that need heat in addition to high humidity. It really is pretty fascinating when you think about it. So I've decided to research a few specific countries to see what their favorite flowers are native to their region and why they flourish so well.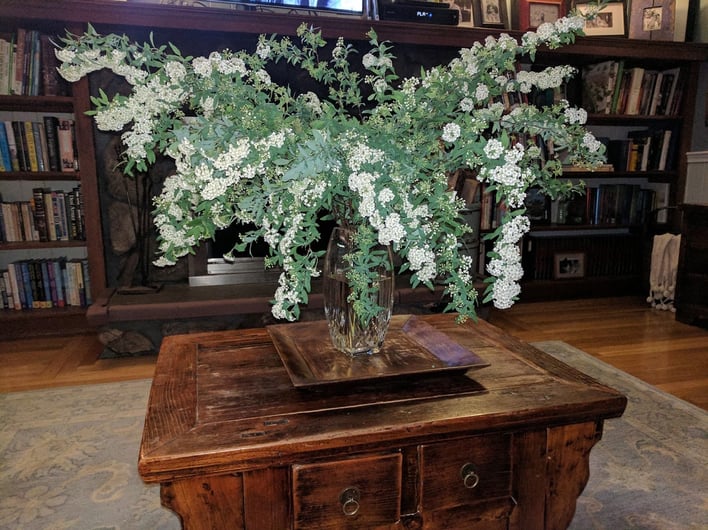 my husband recently brought home this Spirea from Japan for our sitting room
Japan is known for their stunning and eclectic resource of exotic blossoms and the reason lie within their asset of possessing a temperate climate. Even though there are four seasons of winter, spring, summer and fall, the temperature usually doesn't drop under 32 F unless you travel north where snowfall has known to occur. The moist wet soil is also a beneficial characteristic composed of red and yellow sediment, breeding impressive species of ferns, which matriculate everywhere you go. Yes, the heat, soil and extensive education for growing in Japan has laid claim to a gorgeous composition of plants and flowers across the land. Here are a few of the most popular blooms, which are customary in this country.
Dahlia
Ranunculus
Scabiosa
Spirea
Sweet Pea