hristmas time is here and the bells are ringing, music is flowing and the decorations are being hung with care! One of the biggest yuletide displays is the beloved Christmas tree, which is customarily decked out with shiny baubles and lights. This presentation is the focus of the celebratory decor so it's important to take pride in choosing themes, color palettes and textures.
But wait a minute… This can be EXPENSIVE!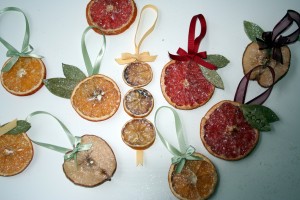 photo credit via http://www.nomeatathlete.com/
Have you ever really done a good accounting check on how much ornaments, tinsel and lights can cost for only a single year? Generally, tree accessories can be a fortune ranging anywhere from $5.00 to $50.00 for a single package. Holiday companies have made a fortune over charging for personalized gifts and hanging tokens when realistically we're only using them one day out of the whole year! I mean come on! How much is overspending when it comes to dressing up a tree?
photo credit via http://www.bhg.com/
Through careful research, I've found some great ways to cut back on the elaborate ornament fees by just using a little imagination. Make your tree gorgeous without having to tap into the kids college fund and show your guests you can still implement a look with style and taste! Start checking in your closets, attics and basements because I guarantee- you'll have everything you need if you do some prep work before hand. Be sure to add both perishable and nonperishable items including dried fruits and antique relics that have been passed down for generations. Select only materials that are small in size and durable enough to be featured on branches that might be whimsy. This is a fun activity for the entire family so get together and raid the house for anything and everything that will make your tree uniquely spectacular!
photo credit via http://stowandtellu.com/