Pink is a funny color in the floral world. It's often associated with a "princess" feel in design work and used mainly for female clientele but is this right? Think about where you might usually see this hue in regards to flower arrangements and tell me if I'm wrong:
congratulations "It's A Girl! bouquets

Valentine's Day flowers for her

Dance Recital Bouquets

Mother's Day Centerpieces

Sweet Sixteen Party
These are the top five occasions we typically notice pink flowers being implemented but if it were up to me- I'd like to widen that bridge to include more areas of placement. After all, why should the color pink be solely associated with women instead of including men in this circle? A guy can be just as masculine for liking this soft shade in his bouquet as opposed to merely sticking with varieties grown in blue and green, am I right? Who's to say pink should be off limits to men, anyways? In my opinion, is high time we change these sexist rules surrounding the shade of pink and open the doors to further exposure residing past the traditional occasions it has been used for in past years. Check out these funky varieties cultivated in the shade of pink and suggested events where they can start being showcased more often in floral arranging.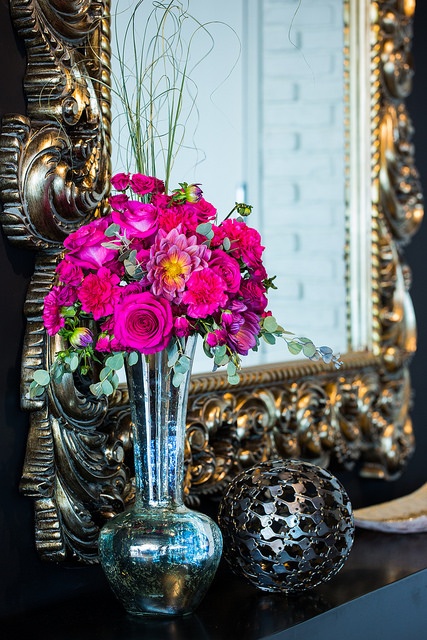 photo via aboutflowers.com
Let's start with the obvious-wedding work. This is the perfect place to start including pink, especially when talking about some of the roles men may play into. Groomsmen might be the #1 spot to promote this shade, particularly in concern with their boutonnieres. Pink roses, pink calla lilies, pink freesia and pink ranunculus are a few of the best options with this type of floral design as well as pink dendrobiums and carnations which work, too! Wedding planners and brides can have fun with extra coordination tactics by setting the groomsmen's attire to match with pink belts, socks and ties. Their presence will reflect a happy and bright feel as they walk their bridesmaids down the aisle while also setting a tone of equality throughout the event.
Another area where we can expand pink's presence in the male world is in the realm of their "man caves". Little do we realize many guys like to have a fresh bouquet of flowers sitting on their coffee tables so why not suggest a variety that fits in with our plan? Try out mokara orchids, peonies, tulips or lilies that are both attractive to look at while still preserving a "manly" presence. While roses may not fit the bill for some men who rely on more burly varieties, gerbera daisies, Phalaenopsis or pink protea just might do the trick