New England Clam Chowder Recipe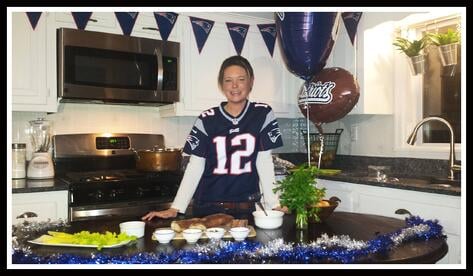 For all of you football fans getting ready for Sunday's big game, here's a sure fire hit to add to your menu of tailgating foods! Authentic to the New England region and delicious to boot, this recipe is both easy and quick to cook up for the big game day. Try this New England Clam Chowder soup for your friends and family and get ready to cheer on the Patriots!
Ingredients
4 Red Potatoes 3 Tbsp Flour
½ Gallon of Half and Half Cream 4 Tbsp of Butter
2 Bottles of Clam Juice 1 Tbsp of Dried Rosemary
4 lbs of Clams 1 Cup of Chopped Parsley
2 Celery Chopped Stalks Salt
1 Yellow Chopped Onion White Pepper
Directions
Melt the 4 Tablespoons of butter in a large pot over medium heat. Add the chopped onion and celery to the pot and sauté until softened. Slowly add flour creating a roué, which will start to thicken the mix of vegetables and butter. Once the flour has been soaked up, slowly add in the cream taking rests to stir the chowder.
Take a knife and pierce the red potatoes, then place them in a microwave for 4 minutes. Slice the lightly softened potatoes into rough cubes and add them into the pot.
In a separate pan, boil the 2 bottles of clam juice. Place the clams in the heated liquid and cook on medium heat for 5 minutes, afterwards straining the excess juice and adding the cooked clams to the chowder.
Add the 1 Tbsp of rosemary and cup of chopped parsley to the pot then season with salt and pepper to taste. The chowder will thicken and the temperature should be dropped from medium to low for approximately 40 minutes. Serve piping hot!