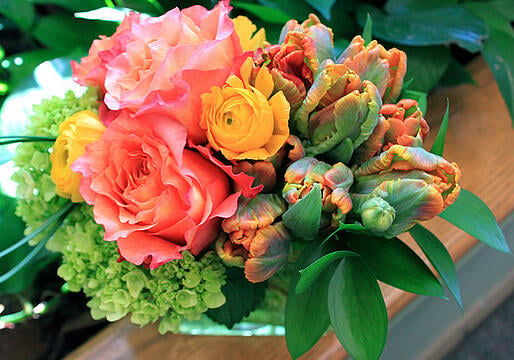 photo credit: Flower Factor
In just a few weeks, it will be time for the bunny to arrive and you know what that means. Time to put out your best china, decorate eggs, accessorize with pastels, pull out holiday recipes and most importantly order your Easter Sunday table centerpiece! This year, Boston florists are offering a whole new array of choices perfect for April 5th's festivities that not only will create the perfect setting for friends and families but also inspire a spring feeling that all New Englanders are craving after this winter. Past Easter arrangements often were styled in a soft mixture of light pink, peach and baby yellow with sprigs of octoberweed or if not too expensive and available, lady's mantle. The French styled, rounded pieces were admittedly perfect for the season but lacked adventure and let's face it- we all need a little pop of adventure these days. Luckily, contemporary artists are coming up with some new options for us to enjoy with ideas encompassing a more vibrant palette.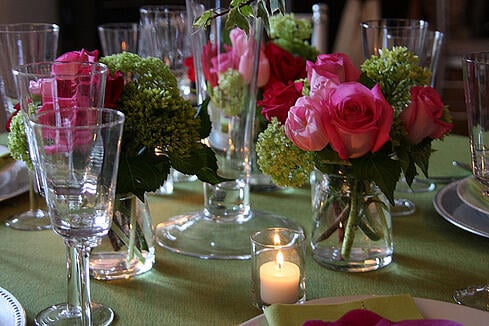 photo credit: Flower Factor
We're switching the blushing pink for some hot fuchsia this time around and there's not an inch of doubt about the positive impact the color trend will happily surprise flower lovers. Traditionally the softer sides of this shade are used but why can't we amp up the volume and give Easter celebrations the bright and fun splash that it deserves? Fuchsia can be easily combined with other deeper tints such as plum purple, burgundy and tangerine orange so don't be afraid to ask your Boston florist for something different than what you usually order. If you still want to experience the delicate gesture of pastels in your pieces, request that your flowers include some of the traditional tints of cream and baby blue. The bouquet will still showcase the exciting new style as well as expel the romantic feel that Easter blossoms are famous for.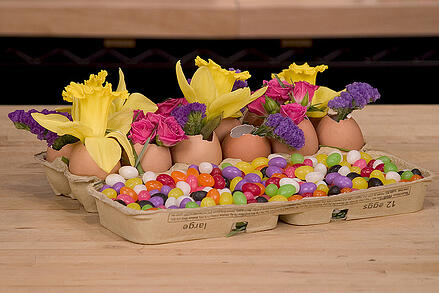 photo credit: Flower Factor
Spring bulbs are more than just the daffodils popping up from a newly thawed lawn you know. Boston designers are beginning to implement them in arrangements because they have a lot to offer including texture, architectural placement and color appeal. Fabulous choices available may be lily of the valley, hyacinth, grape hyacinth, paper whites and fancy tulips. Usually, they are forced open by growing them in a pot of soil in a warm area near light. When ready, they are transplanted into a holiday box garden or simply cut and arranged with other spring blooms. If they have been kept attached to the bulb, customers will enjoy the extra longevity of the plant and may even be repotted in the garden if the season is cooperative. I recently tried this experiment and was able to force white daffodils by placing them in a cup of water allowing the roots to grow and a stem to sprout. After a healthy unit matured, I placed the bulb with a grown flower in a container full of soil and used green moss to surround the base. The presentation was not only inexpensive to make but offered a beautiful springtime time presentation.
Suzie Canale
Westwood, MA