The Jewish holiday, Hanukkah, consists of a wonderfully eclectic variety of cuisine that can be easily compared to culinary art at its finest. Traditionally based on foods containing oil (one cruse lasting for eight days) and cheese (based on the book of Judith), the selection is endlessly yummy and includes favorites such as latkes, donuts and scrumptious challah bread. From family to family, there are amazing variations of dishes, bringing in their own story and personality to the table. Recipes are passed down from each generation in the hopes that some of our ancestor's time honored recipes will be included in the celebration of the Festival of Lights. Here are few of the top rated Hanukkah recipes that are not only customary to this holiday feast but have been praised as mouth watering delicacies by Boston's top chefs.
Parsnip Latkes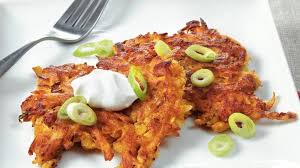 Photo credit: bettycrocker.com
Here's a great spin on the customary fried potato latke where parsnips and sweet potato are used as the main ingredient. Start by grating 2 large parsnips and 2 large sweet potatoes in a food processor. Combine root vegetables with 4 egg whites, 3 thinly sliced shallots, 1½ teaspoons of salt and 2 tablespoons of dried thyme. Mix together thoroughly. Heat a frying pan with canola oil and place a quarter cup of the batter on the pan, pressing down to brown the cake with a fork or spoon for 3 minutes per side. Place on paper towel to relieve the latkes of excess oil. Makes up to 20 latkes and can be served immediately or kept warm in a low temperature oven.
Jelly Donuts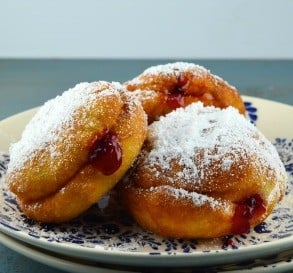 Photo Credit: Food.com
These are so good and wicked easy to make! Grab three eggs and combine them with ¾ cup of milk, 1 teaspoon of vanilla, ½ cup of sugar and mix together well. In another bowl, add 1 teaspoon of baking powder and 1½ cups of flour with a teaspoon of salt mixed in as well. Combine the two bowls slowly making sure that a smooth doe is formed to make a sandwich like shape. Heat a deep fryer at 375 degrees with canola oil and add a precooked donut that consists of two layers of doe with a layer of jam in the middle. I prefer strawberry but any kind will taste superb including raspberry and blueberry. Making sure not to overcrowd the pan, fry donuts for about 4 minutes each until they reveal a golden color. Let them cool on plate and sprinkle with confectionary sugar for an attractive presentation.
Maple Applesauce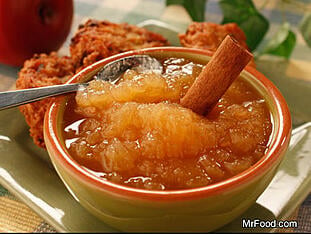 This is a wonderful recipe for tart applesauce with a little kick to it that also pairs well with a large variety of main courses. Gather 8 peeled apples with a sour taste (such as Jonathan apples or Granny Smith's) and 3 sweet apples (such as Golden Delicious). Slice apples into small pieces making the process of cooking them easier. Place in ½ cup of boiling water and reduced heat to medium allowing the apples to soften until they begin to pull apart. Once ready, mash down the apples to a desired consistency and then add 4 tablespoons of Vermont Maple Syrup (only use the good stuff). Once you have thoroughly mixed the sauce, add 1 teaspoon of cinnamon to add zip to the flavor. Refrigerate the dish until the desired time of serving.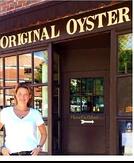 Suzie Canale, Union Oyster House, Boston, MA August 2014
Suzie lives in Westwood, MA. She is avid chef and makes an amazing New England clam chowder.