There are so many beautiful colors you'll find in a garden, but when you spot a species grown entirely in blue-you stop and take notice. While there are many different varieties grown in red, orange and yellow, it's sometimes hard to cultivate indigo blossoms because the truth is, there just aren't that many in existence. It is for this reason, which make delphinium, hydrangea and forget-me-nots so special in our gardens. One blue flower that happens to be a top favorite is the cornflower, which interestingly enough has a strong symbolic meaning in several cultures and religions.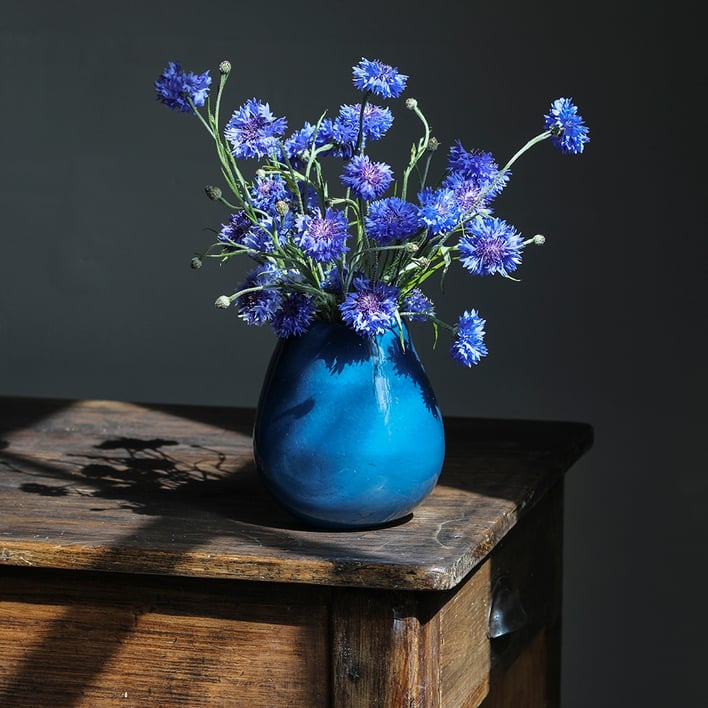 photo credit via McQueens Flowers London
Everything about this flower means something good (well, almost good)- a rare trait in floral lure. The first species date back to the mid 1800's where it became a symbol for many European countries. First and foremost, the cornflower has a strong political tie, particularly to Prussia, Germany, France and Estonia. The most well know story tied to this species dates back to when Napoleon invaded Prussia and Queen Louise was forced to hide her children in a field of cornflower to camouflage their presence. As she told them to lie down on top of the flowers, she wove crowns out of the wildflowers and told the children to wear them on their heads to blend in with gardens.
Soon, the flower was also adopted by Germany as a symbol of military as well as France who emulated it's similar color to their soldier's uniforms. Estonia also uses the cornflower to signify political parties including the People's Union and the Liberal People's Party as well as a symbol of bread.
On a negative side, the cornflower was also taken as a warning signal worn by the Natzi's in Austria. It is because of this tainted past that many countries did not want to utilize the blossom for their nation's pride in fear they would be seen as supportive of Hitler's horrendous reign in power. It took years for the cornflower to win back a positive reputation where today it can also mean wealth, pride and an abundance of good fortune.