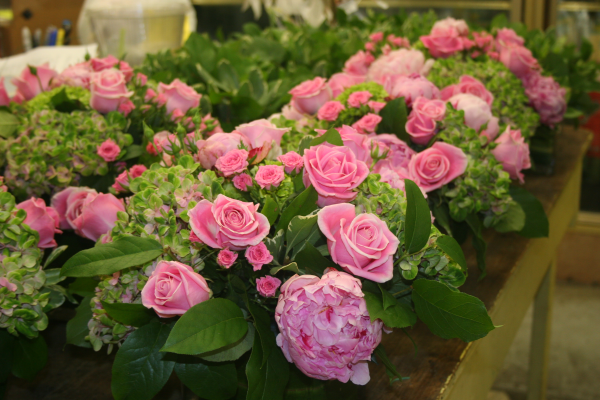 Chapter 7: Pretty Petals...
"If I had a flower for every time I thought of you, I could walk in my garden forever."
~Alfred Lord Tennyson
One of the most beautiful aspects of wedding planning is the selection of flowers which include a mass spectrum of possibilities including color palettes, texture and style. Traditionally, brides were once confined to a "white only" restriction, limiting the wiggle room for brides to let down their hair when it came to bouquets and centerpiece design. Although white weddings are still unquestionably stunning and still desired by those taken with blooms of white hydrangea, Casablanca lilies and Bianca roses, new trends have allowed bridal floral work to expand outside of this circle. Including seasonal and thematic options, flowers can now be tailored to fit whatever fun and fantastical party planning couples have in mind. For those who like to walk on the "rose petaled edge", try these fabulous floras on for size!
Seasonal Stems~ Tulips are certainly in full bloom during the spring wedding season which are both easy to find and affordable for a budget conscience couple. Providing both soft and vibrant colored varieties as well as textures of ruffled edges and multi-layered heads (such as the Parrot tulip), this bloom is perfect when mixed or standing alone in bubble bowls. Summer soirees are blessed with a pinwheel of hydrangea choices including antique, popcorn or sea hydrangea which thrives gloriously off of the salty air provided by the coasts of New England. Boston gardens are also in full swing during this time growing a multitude of perennial and annual goodies lovely for hand held bouquets. Some of the recommended flowers are tea roses, nasturtiums, campanula, geraniums, calla lilies and lady's mantle. Fall is another gifted season for flora and fauna giving way to hearty stems of mums, kale and cymbidiums, deeming this the favorite month for bridal centerpiece design by many florists. Last but not least is the winter collection, composed of interesting branches which can be arched into contemporary architecturally inspired forms. Other ideal picks suitable for this chilly season are amaryllis (red, peach, burgundy, green and white) hypericum berries and gerbera daisies which are available year round.
Themed~ Several soon-to-be's believe that themed weddings are confined to room decor, favors and clothing apparel which is simply not true. Selecting a motif for your special day can carry right over to your floral planning including both centerpieces and bridal bouquets. Perhaps the couple are fond of birds and would like to incorporate peacock feathers within arrangements? How about those who adore animals and would like to choose flowers with names such as elephant paws, lambs ear, Beebalm, or Tiger lilies? Another theme which holds incredible popularity is the "Tropical" wedding which can include exotic flowers such as the birds of paradise or showy ginger heads. Orchid lovers have a wide array of delicate species to opt for such as james story, oncidium, and philanopsis, a fabulous way to put some "cha cha" into your arrangements and hand held bouquets. Exotic Flowers in Boston specializes in this particular area of majestic blooms.
- Suzie Canale