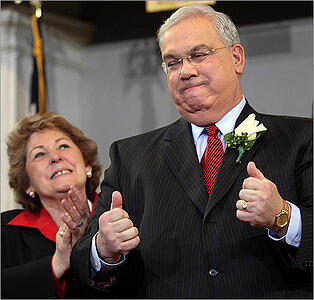 For more than twenty years, Exotic Flowers has served Mayor Menino as his florist. A great man who made a great difference, Mayor Menino beautified the lives of so many. What many do not know is what a great believer in sending flowers that the Mayor was. At Exotic Flowers, we would get at least one order per week to the bereaved,the host, the colleague or new parents. His staff was as personal as the Mayor himself. The Mayor drove by our flower shop on American Legion Highway daily on his way to city hall. He would often pop into our Quincy Market location and even shared a piece of pizzagaina in our Roslindale store one Easter Sunday years ago.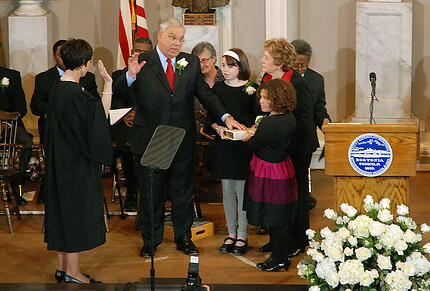 The Mayor knew the importance of flowers at political events. During city council and Mayoral inaugurations, the staff at Exotic Flowers would adorn the stage with a plethora of fresh flowers and lapel flowers for the celebrants. This great man also never forgot his granddaughters' recitals. He always ordered flowers to present to them.
"Boston Mayor Thomas M. Menino ranks as one of the most generous flower givers, spending at least $7000 on flowers in 2010, most from his favorite florist, Exotic Flowers, in Boston.
A spokesperson for the Menino campaign could not be reached and the mayor's office declined comment.
Flowers are such a powerful political tool and are so common that OCPF has even created specific regulations for them. Candidates cannot buy flowers for people they or their treasurer has a personal relationship with, the flowers must be appropriate for the occasion, and an "important political relationship" must exist, the regulations state." - By Maggie Mulvihill, Sarah Favot and Matt Porter |Masslive.com 2/20/2011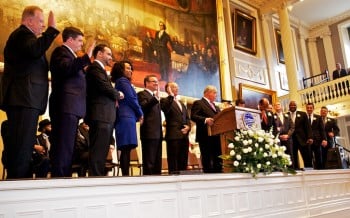 Mayor Menino's best gift however as Mayor was on Mayor Walsh's inauguration day. Mayor Menino sent Mayor Walsh a Boston Fern for his new office.
Dear Mayor, thank you. Thank you for being a great client, a strong Mayor and remarkable man.