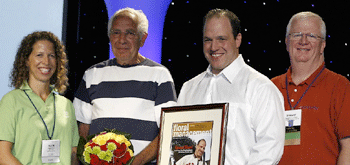 July 12th, 1957 - 53 Years ago today --
Embarking upon his ambition to fulfill the American dream, Arnold "Sonny" Canale bought Lombardi Florist in 1957. He had been an employee there since 1943. Lombardi's had been a successful florist and nursery since the early 1900's. In 1959, Sonny married Marie "Russo" Canale and merged Lombardi's with her family's florist, Russo's Florist. Russo's Florist had been in business since the early 1900's when Marie's parents arrived from Ponza, Italy.
Foreseeing the changing economy in the coming millennium, Sonny adopted the name Exotic Flowers as its primary signature for doing business in 1993. In 1994 a satellite location was opened at 2 Dartmouth Street in Boston's South End. In 1995, in order to expand our services, we opened a full service floral shop and garden center on route 3A in Cohasset. In June 2001 our flagship store opened at the greenhouse at Faneuil Hall Marketplace. Roslindale remains company headquarters. All phone calls, on line orders, and deliveries emanate from this location.
In 2007, Exotic Flowers partnered with the Boston Red Sox to be The Official Florist of the Boston Red Sox. Exotic Flowers was thrilled to be such a special part of their World Champion season. Our success with the team led to the development of our online memorabilia store, www.fenway1912.com Exotic Flowers firmly believes in sports and their benefit to society. We have been the florist for the PGA Deutsche Bank Championship since its inception, and in 2010 partnered with the Women's Professional Soccer team - the Boston Breakers (www.bostonbreakers.com)as their official florist. Exotic Flowers and Lombardi Florist have also been proud to sponsor our local softball teams and reward our Little League Champions.
Exotic Flowers realizes we are a part of the community and continue to do our best by employing a strong business ethic and offering a beautfiul destination florist in Boston. One can always come in for free plant advice at any time.In 2009, Exotic Flowers closely worked with Fisher House Boston - who provides care for our wounded veterans and their families at the Veterans Hospital in West Roxbury, MA.
Exotic Flowers remains a family owned and operated Boston florist. Sonny and Marie work daily and their children all play integral roles in the future of the company. Lauren Canale Trifiro operates an online florist from Scituate. John Canale works part time and offers his experience and customer service skills for the benefit of the growth of Exotic Flowers. Rick Canale oversees the daily operations and ensures that Exotic Flowers remains Boston's Premier Florist.