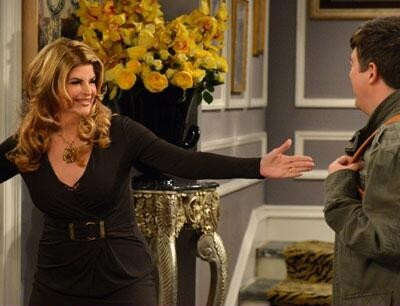 photo credit: TV Land
Recently, actress Kirstie Alley returned to television with an enjoyable sitcom aptly named Kirstie. I have always been a fan of the star and this show does not disappoint. One of my favorite things about the show is the decor, especially the flowers. The arrangement pictured above showcases yellow roses and cymbidium orchids. The flower arrangements are spectacular and appear to be an integral part of this New York City broadway actress' apartment.
The video clip above is the Christmas episode. The set designer does an amazing job of pink poinsettia plants, an over the top Christmas tree, a ginger bread mansion, along with orange roses, green hydrangeas and bowls of Christmas ornaments.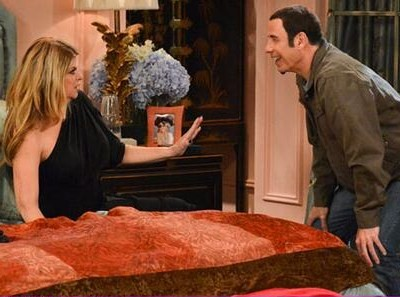 photo credit: TV Land
In one episode, super star John Travolta makes a guest appearance. Undeterred from the star power on stage, the set designer fills Kirstie's bedroom with amazing florals such as the mound of indigo hydrangea as seen above.
At Exotic Flowers in Boston we are often in awe of the talents of New York city florists like our friends at Starbright Floral in Manhattan's flower district. Because New York is our big brother, we often send flowers to Manhattan. We are fortunate that the staff at Starbright treats our clients like their own.