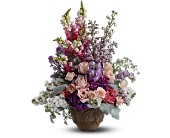 Dear Funeral Directors
,

We want to thank you for the important part you play in helping bereaved families experience the comfort of sympathy flowers and to let you know what a pleasure it is to work with you.

Flowers continue to remain an important part of a funeral or memorial service. Whether a funeral is in Boston, Cambridge or Brookline, funeral flowers remain an important part of the grieving process.


The continuing use of the "in lieu of flowers" phrase in obituaries, which is a major concern for us. We would appreciate the opportunity to discuss how the use of this phrase affects our work to help people express their sympathy, and how Exotic Flowers
and all local funeral homes
might work together to minimize the use of the negative phrase. Our goal is to help you address any concerns you have about handling flowers and to best serve your needs. This will benefit both companies and, most importantly, our valued mutual customers.

We would be glad to come to your offices or welcome you to our shop for a tour. In the meantime, if you have any questions or comments, please feel free to contact me at 617.247.2000
or e-mail rick@exoticflowers.com
.

Thank you for your consideration and we look forward to meeting with you.


Sincerely,




RickCanale
(Exotic Flowers)