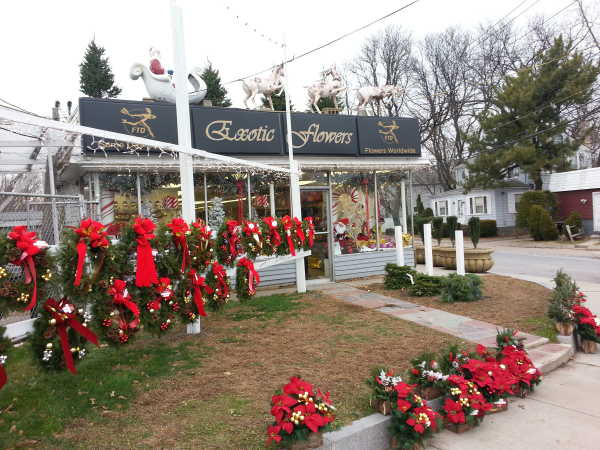 Exotic Flowers on American Legion Highway in Roslindale has been selling cut Christmas Trees for more than fifty years in the same location. At Exotic Flowers, there are hundreds of cut Christmas trees to choose from. Our Christmas tree lot features balsam fir, fraser fir, concolor fir, white pine, douglas fir and even snow flocked Christmas trees.
At Exotic Flowers in Boston, all our Christmas trees have visible pricing. No tree lot haggling, swindles or off the cuff remarks. An experienced sales staff will help you pick out the perfect Christmas tree for your home.
Our Christmas trees are all standing and can be viewed at all angles, no hidden sides. After you select your perfect Christmas tree, our sales staff will bundle your tree for easy transport and tie it your car at no charge. We also give every Christmas tree a fresh cut to ensure freshness.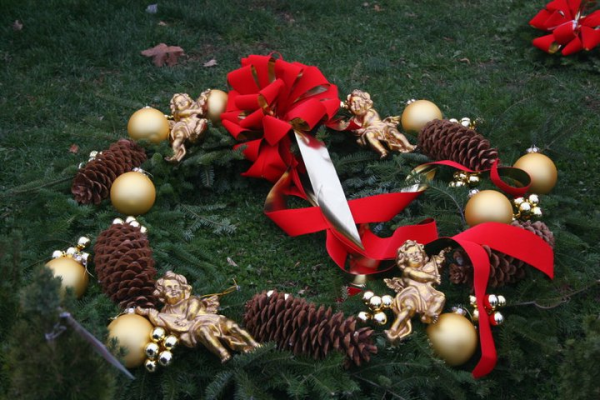 Of course, we do not just sell Christmas trees. At Exotic Flowers in Boston, we offer hundreds of plain and decorated Christmas wreaths. We also have kissing balls, evergreen roping, mistletoe and a greenhouse filled with locally grown poinsettias, cyclamen and amaryllus.
We can also deliver your Christmas tree to your door. Not sure if you have a tree stand, we sell Christmas tree stands, ornaments, lights and removal bags. Also every child gets a coloring book and candy cane at no charge. 2011 Exotic Flowers wall calendars are also available for free to adults too.
Boxwood trees are a specialty at Exotic Flowers in Boston. Many Bostonians live in apartments and have a need for these miniature Christmas trees. Our boxwood trees can also be created in any color scheme and with fresh flowers too.
When you visit Exotic Flowers to buy your Christmas tree, ask for a tour. We would love to show you around.