What's Thanksgiving in New England without serving up delicious, scrumptious, mouth watering pie? It's the dish we look forward to from the moment we step up to the holiday table, allured by sweet scents wafting from the kitchen oven. Bostonians are particularly lucky because many of the best pies hold ingredients, which are native to our farms and local orchards during this season. Using native produce within our cooking makes foods even more spectacular, so it's important to remember to buy or pick within the Boston region whenever possible. Looking for the perfect pie to bring to the table this Thanksgiving but aren't sure where to start? No problem, here are a few of my best New England pie suggestions to get you rolling the baking pin in no time!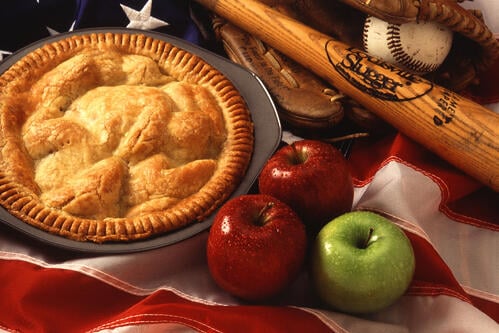 photo credit: Wikimedia
Apple Pie, it's a classic and there is no denying that it is one of the favorites during the Thanksgiving season, and why shouldn't it be? Apples of all kinds are plucked from the regional orchards of Massachusetts, holding the crispest, sweetest (and if you prefer) the tartest fruit just perfect for autumn recipes. According to and article featured in Bon Appétit written by Chris Morocco, the three top suggested apples to create the filling for this pie are Pink Lady, Granny Smith and Honey Crisp, which all have varying degrees of sweetness and tartness. Bakers are hinted to taste a sample of each before deciding which variety to use since the selection that is made will drastically affect the taste of the pie once it is completed. Simple recipes can be found on the websites of Betty Crocker, Pillsbury and the Food Network.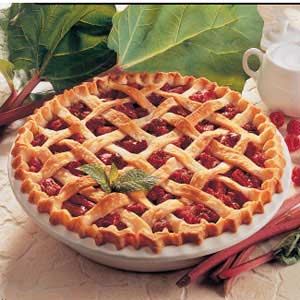 photo credit: TasteOfHome.com
Rhubarb Pie
I'll admit it; this is hands down my favorite treat of the Thanksgiving season. Traditional to many New England tables, Rhubarb pie is an interesting concoction, tasting bitter and sweet all at the same time. With every spoonful, the unusual root never fails to delight eaters with a decadent assortment of flavor while being accompanied by only a few simple ingredients of sugar, flour, butter and salt. Many bakers are frightened by the seemingly complexity of Rhubarb pie, but I assure you, there's nothing to it. According to a recipe found on allrecipes.com, here are the easy steps to making this incredible dessert!
Ingredients: 4 cups of chopped rhubarb, 1 1/3 cups of sugar, 6 table spoons of flour, 1 tablespoon of butter and 1 pre made pastry crust.
Directions: Preheat Oven to 450 degrees. Combine sugar and flour and use ¼ of the mixture to sprinkle the bottom of the crust. Place rhubarb directly over and add remaining flour and sugar over the top. Slice butter into tablespoons and use as the next layer. Cover the top with a pre-made crust and bake for fifteen minutes then lower oven temperature to 350 degrees. Finish baking for forty to forty - five minutes and serve warm. Trust me, your guests will love it!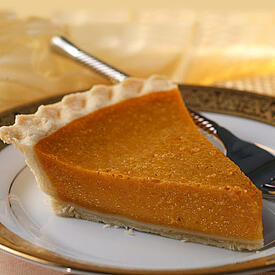 photo credit: Meals.com
Pumpkin Pie
Let's face it. You can't really say your having a New England Thanksgiving without enjoying a pumpkin pie! This dessert is by far the most popular dish to serve during this holiday and there is a good reason why… Boston is known for their precious patches that reap some of the world's fines pumpkins. Working in combination with our warm summers that change into chillier temperatures once the fall rolls around, this creates the perfect environment to raise beautiful, plump and most importantly, tasty fruit that bakers just cant wait to get their hands on! Pumpkin pie is also popular for its creamy consistency that always pares well with Thanksgiving's top star, the turkey. Again, make sure when you begin preparing this dessert to choose a simple recipe where the true pumpkin flavor won't become over burdened by fancy additives that are just not needed. Select a really great vanilla bean ice cream to top slices with (Haagen Dazs, it's the best) and you are all set!
At our home in Westwood, my mom always make certain that we have a delicious selection of traditional pies for dessert.
Suzie Canale
Westwood, MA

Suzie will be celebrating Thanksgiving with her two sons, husband, mom and aunt at her home in Westwood. Masschusetts.