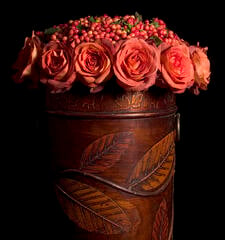 Flower arranging can be a sensational way to add to your holiday decorating. Bringing cheer, happiness and beauty to any home, a stunning plethora of blooms gives incredible accent to traditional festive pieces such as ornaments, wreathes and candles. Decadent in color, texture and exquisite scent, the right vase of flowers will enhance your seasonal settings without outdoing the more traditional essentials of table settings and of course, the turkey. From dainty bud vases to massive urns and vessels, there is no denying the charm a bouquet of fresh flowers can bring to a home during this special time of year so don't be afraid to get creative when searching. Some of the most dazzling centerpieces are found within the least likely treasures hidden within our home. Try these ideas to make the perfect floral epergne for your holiday enjoyment.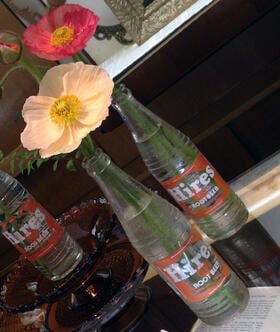 The best place to start your search is in your basement or attic. You never know what kind of funky trinkets you may be able to morph into a vase. Items such as pottery and glass servings make excellent choices since they show off the colors of the stems as well as eradicate an antique, "no fuss" appeal. Patterned china is also a lovely option as well as ceramic, planting pots, mismatched coffee cups and even lanterns. Don't be afraid to really think outside of the box and try other possibilities such as small glass match holder containers, children's teacups and maybe even old pantry sugar and flour jars. All of these reflect the feeling of "home", which is ideally what we look for in this type of "family" theme. If you cant seem to find any of these in your own house, flea markets and yard sales are wonderful places to hunt for unique valuables where you can not only get a great deal but have the satisfaction of recreating something used into something new.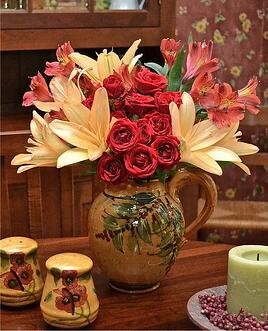 If this concept of making your own vase sounds enticing, you may want to keep in mind a few tips to ensure a successful centerpiece arrangement. The most important factor is if the object holds water. Before actually placing flowers within a holder, run water into it over the sink to be positive that it is drip free. Other things to keep in mind are dyes that may be painted in inside or outside of the jar causing water to turn an undesired color and deciding beforehand if the material the vase is made up of will keep its form instead of disintegrating or decomposing (I've seen people try to use paper for vases-doesn't work I assure you). Whatever means you go about utilizing your own holiday vase, be certain that it is reflective of your individuality and taste because there is nothing more important than making your holiday special for you and your loved ones.
Suzie Canale
Westwood, MA
all flower photos in this post courtesy of Flower Factor and AboutFlowes.com

Suzie Canale lives in Westwood, Mass her hobbies include, fitness, decor, reading and cooking.