April is the best month for spring when things are becoming greener and blooms are beginning to poke their heads up from a long winter's sleep. Of course New England's know rain season helps with this too as things defrost and adjust to temperatures (hopefully) rising into the mid 60's. As we become inspired about the changes occurring outside, Boston florists are utilizing the environmental transitions towards offering customers a new selection. By focusing on color changes, textures and new varieties available during April, floral professionals are wowing their clientele with a fresh and bold array of bouquets. Here are the top choices that I've found being advertised-I can't wait to try them all out!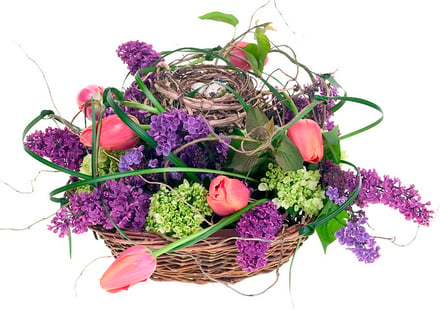 photo credit: Flower Factor
Pastels are still really beautiful for this month although they are sometimes seen as traditional. Soft shades of lavenders, blush pinks and creams all create a stunning impact when combined in vases. Their easy blend brings a sweet aura to homes and does well to emulate the stunning characteristics the month of April brings. Suggested varieties include grape hyacinths, tulips, lily of the valley and crocuses. Since in general, they are petite in size, arrange these flowers in bud vases or miniature china pieces. Also, hunt in your attic for unusual antiques that might work just as well for displaying flowers. The delicate patterns and eclectic vase material will compliment these spring favorites by providing interesting holders display as well as utilize some of your favorite treasures that you already posses in your home. Don't forget to check the trees in your area for seasonal blossoms like magnolia and cherry that are also excellent options for softer textures and tones.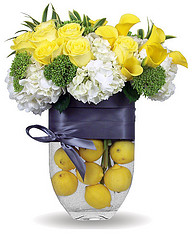 photo credit: Flower Factor
If pastels seem all washed up to you, try going in the other direction and vamp up the bold in your blossoms! Our backyards are starting to burst with offerings of forsythia, fritalaria, hellebores and crocus so do yourself a favor and go scout things out. Braches are stunning when cut and put in a clear cylinder holding warm water or bubble bowls of deep colored ground coverings such as daffodils will also keep onlookers in awe. If you are hoping to pick something up from your florist, ask for peonies that are just starting to be imported from France and Holland or California garden roses, which also grow in majestic jewel tones. Bearded iris, gerbera daisies and freesia are also excellent options that are becoming more and more popular for April arrangements!
Suzie Canale
Westwood, MA