Take out of pizza and most popularly, Chinese food is found on many tables the night before Christmas but there is one special festivity that promises a more interesting appeal than cheesy dough and fried rice. The Feast of the Seven Fishes is a time honored tradition celebrated by millions of families the eve before Santa arrives and is celebrated the most by Roman Catholics, Southern Italians and Italian American families. Translated originally as, "La Vigilia" the custom calls for the eating of seven different fish dishes although sometimes expanding to nine. The fish is often cooked and fried in oil and has a surrounding of several different possible reasons why this came to pass. One theory says that the number #7 is the most repeated number in the bible while other philosophers claim that it represents the seven hills, which circle Rome. The importance of the dish made from fish is tied to both the Catholics placing importance to eliminating meat and dairy on the eve of any holiday. The significance of participating in this festivity is both correlated to the religious aspect as well as the belief that all those who engage in the Feast of the Seven Fishes will have good health and fortune for the year to come.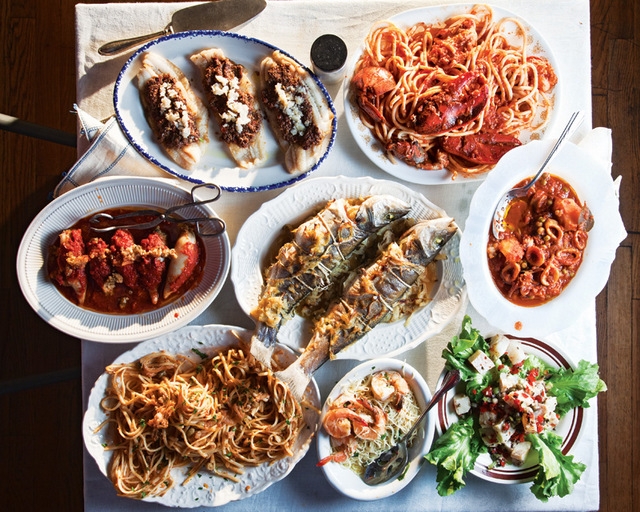 photo credit:http://blog.turners-seafood.com/
Generations of recipes for this custom can include any type of fish but most commonly includes cod, specifically the serving, baccala (salted cod) and smelt. Other popular platters serve delicacies of lobster, clams, eel, mussels, squid, scallops and shrimp. Often there are helpings of vegetables and pasta but there is a strict restriction from beef, chicken and eggs. Kale preparations are also seen quite often amongst the sides. Variations are abundant, so don't be afraid to substitute the cod for something you favor more. Salmon, tuna, swordfish and sardines are perfectly acceptable replacements that might be more pleasing to your guest's palettes. Another terrific bonus for celebrating the Feast of the Seven Fishes is that homemade wine is a strong part of this tradition, although any wine is acceptable.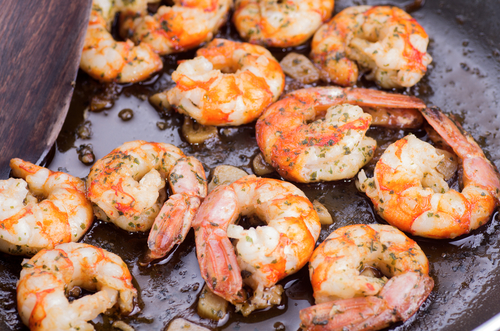 photo credit: elizabethstreet.com
If you're looking to start this wonderful custom on Christmas Eve, try Lemon Garlic Marinated Shrimp, which is both quick and healthy. Grill or sauté 1½ pounds of shrimp however you usually prepare the shellfish. Heat a skillet and add 3 tablespoons of olive oil and 4 tablespoons of finely chopped garlic. Add a ½ cup of lemon juice, ½ teaspoon of salt and pepper and a ½ cup of fresh chopped parsley. Mixed together well and pour over the cooked shrimp. Place in refrigerator to chill until its time to serve.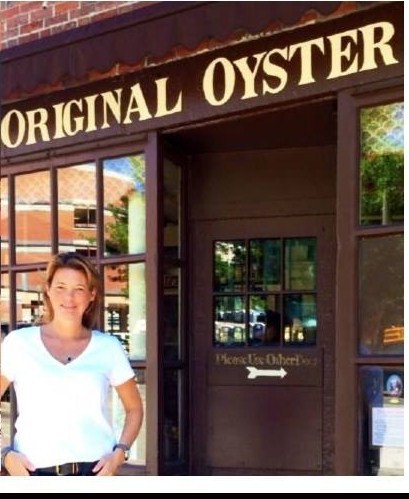 Suzie Canale, Union Oyster House in Boston, 2014
Suzie can be found on Christmas Eve at her home in Westwood wrapping presents.