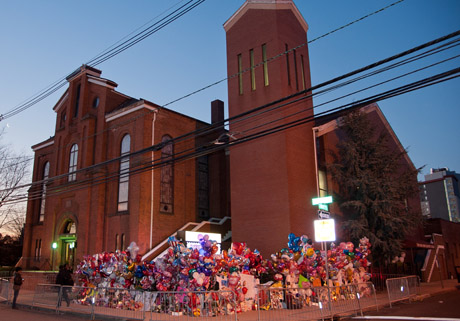 When a music legend like Whitney Houston passes away, the world mourns. From Boston to Belgium, Miami to Milan, the world comes out in droves to show their respect. The above photo shows the public shrine of teddy bears, balloons and flowers all left at the church in memory of this icon. Whitney's music touched the lives of so many and although we see her faults, we also show our thanks for the beauty she let into our world. One of the many wonderful traits of fresh flowers is beauty. One beautiful blossom makes a statement of love and appreciation.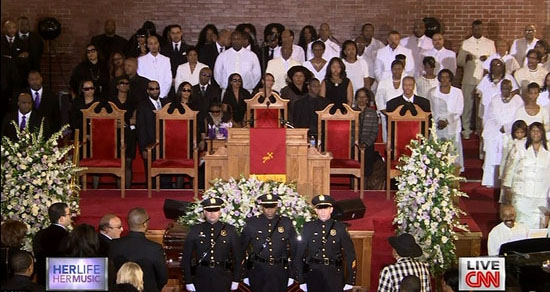 As a Boston florist who specializes in funeral tributes, I must give the utmost praise to whomever chose the flowers and styles for Whitney Houston's funeral. The subtle colors of lilac, white, off white and green are simple elegant and timeless that embody the grace and stature of Whitney Houston the artist.
Two traditional standing easel sprays were chosen to adorn the altar and flank each side of the casket giving the most traditional setting. Like the artist, the look is timeless.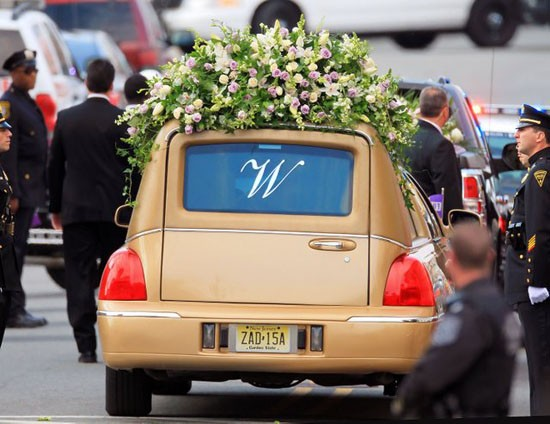 Whitney's casket cover is spectacular. Kudos to the NY/NJ florist who created this masterpiece. The funeral flowers for the casket are the most important feature in any funeral. In the unfortunate event that you need to make funeral arrangements, do not neglect the importance of the flowers for the casket.