When a loved one passes away, it is a trying time for all family and friends to grieve for their loss. The ceremonies following the death can be unbearably stressful for those who must make the arrangements such as burial, cremation and funeral services and can result in conflict between relatives regarding how the process should be run. Since we all come from a multitude of different backgrounds, ethnicities, religions and preferences, appeasing everyone can be extremely difficult when executing a proper memorial.
One issue that seems to be a popular conflict is whether or not to include flowers in the ritual. Two reasons why a funeral often rejects the acceptance is because some feel gifting a basket of blooms is unnecessary or others believe a small token should be instead given to the charity of the family's choice. Supporting the financial administration of non-profit organization in memory of those who have past is a sweet idea but did you know that only 5% of people in attendance actually donate to the cause at all? It's human nature to want to do something for those in pain, particularly during a time of mourning but what we're missing here is the actual event of gathering supporters and comforting one another.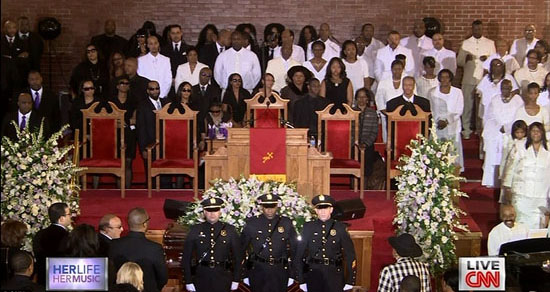 Eliminating flowers from the funeral procession can actually work against family and guests as well as substantiate a cold and negative platform- a message that most hosts do not want to encourage. Allowing visitors to add bright colors of blooms in baskets, vases and other memorial pieces boosts a feeling of soothing and solace instead of the rigidity of simply placing a casket in the middle of the room. The shock of this can also be alarming to many people who are anxious in this type of situation thus permitting them to send flowers can be a wonderful way to ease discomfort. Places where funerals occur are generally dark and gloomy places so integrating arrangements that elevate joy and cheerfulness is an excellent strategy to make the occasion easier for all to experience.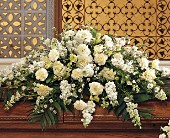 If you're wondering what appropriate floral pieces might be, look over these beautiful examples of proper blossom etiquette when enduring the loss of a loved one.
Funeral Wreaths are usually covered with varieties such as roses and carnations and are typically placed right next to the casket and moved to the gravesite for the burial.
Casket Covers are designed to be long and flat and can consist of whatever flowers you prefer although lilies, roses and hydrangea seem to be the most popular. Customarily, guests will take a single stem from the display and place it over the casket as a sentiment to the deceased.
Memorial arrangements can be similar to everyday bouquets in vases and range from pastel mixtures to bright pops of color. Pieces are usually sent to the funeral home and displayed in the lobby for the wake and moved later for the actual funeral.