Rick Canale, yes that is me. As my twitter profile suggests; married to Suzie with 2 sons. My interests include family, food, wine, baseball, reading, Boston, flowers and orchids. My family comes first and everything else second. My blog posts are not only meant to inform, but entertain as well. You can often find me hanging out at Exotic Flowers in Boston. My goal is to deliver breathtaking flower arrangements to residents, workers and visitors in Boston and New England. My favorite flower is the phaelenopsis orchid.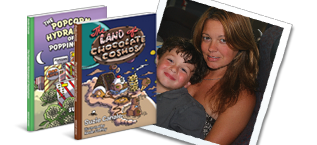 Suzie Canale grew up in Andover, Massachusetts and is a graduate of Salem State College. She began writing as a children's book author after a twenty five year career in the wholesale floral industry in Boston at Back Bay Wholesale where she was inspired by flowers named after child friendly foods. She developed the concept of "The Beantown Tales" - a series of books geared towards educating children to make positive changes within the key concerns of our society. Suzie is the recent recipient of the Green Difference Award for Green Book of 2011 by the Massachusetts Green Schools Organization as well as anHonorable Mention in the 2011 New England Book Festival children's division for her first installment of the Green Series, "The Land of Chocolate Cosmos". She has also authored "The Popcorn Hydrangea of Poppingtom" and "The Candy Roses of Cape Care,".
As she continues her career by writing books, articles and blogs for online websites, magazines and local businesses, she is also busily raising her two sons. Married to Boston florist Rick Canale, Suzie's blog posts focus on weddings, wedding flowers and wedding planning for the Boston area. You can also download her free ebook for wedding planning. Her favorite flowers are sweet pea and of course chocolate cosmos.

Jonathan Bornstein is a Newton resident and graduate of The Roxbury Latin School and Cornell University. Jon is the owner of L. Bornstein and Company, a wholesale floor covering distributor servicing the needs of members of the floor covering trade throughout New England. Jon is active on twitter and writes an amazing blog about great sandwiches that he has ingested. His contribution to the Exotic Flowers in Boston blog ranges from Halloween treats to being a Jew at Christmas. His favorite flower is the gerbera daisy.
Exotic Flowers in Boston is always on the lookout for guest writers. If you would like to write for our blog, let us know. We will make it worth your while.