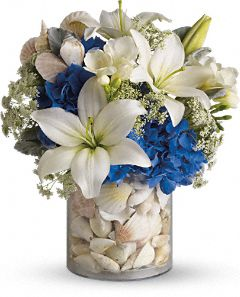 It's summer time and we are fortunate to live on the east coast where trips to the beach are regular. Some of our favorite beaches include Old Silver Beach, Long Beach and Minot. When our floral designers make beach trips, they cannot help but be inspired by the awesome beauty of the ocean. Why go to Pinterest when inspiration can be had on the beaches of Cape Cod ?
This beach like inspiration is catching fire with floral designers throughout the United States. As a long standing member of The Society of American Florists (SAF), Exotic Flowers in Boston is offering its full support to SAF's latest public relations program. The latest installment of The VaseOff! Challenge, Society of American Florist's (SAF) online floral design competition series, went live to the public this week, flaunting florists' talent for matching flowers to recipients' personalities. The Challenge: Design an arrangement sure to delight a friend who loves the beach and can't get enough of the sun, surf and sand.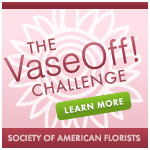 The VaseOff! Challenge is SAF's latest public relations program designed to drive traffic to the blog and promote positive floral messages to consumers and the media.
"In this world that revolves so much around social media, consumers like interaction," said Jennifer Sparks, SAF Vice President of Marketing. "This challenge provides a fun, interactive way to spread the good news about the benefits of flowers and the expertise of florists, with the capability of going viral very quickly."
VaseOff! is part of SAF's 2012 Consumer Marketing Program, which uses public relations and social media to promote positive messages about flowers, plants and florists. SAF marketing programs are possible thanks to the SAF PR Fund, made up of retail member dues and voluntary contributions by wholesalers, suppliers, importers and growers. Since its inception in 2001, PR Fund programs have generated more than 1 billion consumer impressions, according to Ogilvy's measurements.