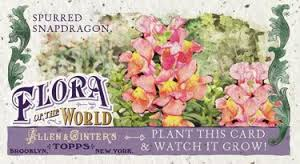 I have been collecting baseball cards since 1979. I used to wait for fresh packs of baseball cards to arrive at the corner stores in Roslindale and Scituate. I used all of my money for packs of baseball cards. Thankfully, I rarely chewed the gum. I do miss that smell though as baseball card packs today do not come with gum.
My card collecting days peaked in 1985. My best cards at that time included a 1976 Topps Carl Yastrzemski, a 1975 Rookie George Brett, 1980 Rookie card of Rickey Henderson and all of Carlton Fisk's cards as he was my hero at the time.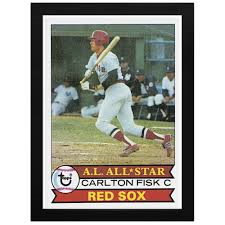 I have all these cards today. Thankfully, my mom never threw them away. My top cards now are bit a different. I own a 1952 Topps Jackie Robinson along with 1953 Topps cards of Mickey Mantle, Satchell Paige and Willie Mays. I also collect cards of my friends Ted Lepcio, Ron Kittle and Benny Ayala. Exotic Flowers has nice collection of cards of players who have bought their flowers here; David Ortiz, Dustin Pedroia, Jonny Gomes and Tim Wakefield to name a few.
I still buy a fresh box of baseball card packs every year to share with friends and family on Opening Day. It is a great tradition. Baseball remains my hobby. I spend most of my time at Exotic Flowers selling flowers in Boston. Like Hall of Famer Bill Veeck, I am an avid reader, passionate marketer, lover of flora and fauna (it was Veeck's idea to plant the ivy at Wrigley Field) and huge baseball fan. Like Veeck and myself, Topps Baseball Cards also sees the connection between nature in baseball.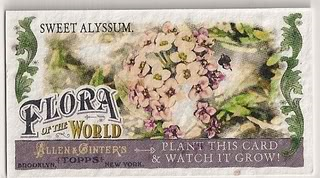 (If you are looking to acquire any type of trading card, the best site out there is comc.com)
In 2011, Topps produced an insert set in its Allen & Ginter collection. This subset, known as Flora of the World comprises five cards. The cards were inserted into 1 out of every 144 hobby packs. The coolest thing about these cards though is that they contain flower seeds embedded in the cards. You can actually plant the card itself and it will produce the flowers on the card. How cool is that ? I would love to create a business card like that. Although I do have a pretty cool busines card.