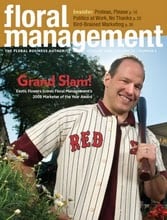 Viewpoint By Rick Canale
Admit it. You're probably not paying
your sales staff enough. In our industry,
sales reps, on average, earn about $9-$12
an hour, compared to the $15 to $20 an
hour designers pull in. How can we ask our
salespeople to sell $500 funerals or $100
arrangements, when they only average
$20,000 per year as full-time employees?
Designers command the highest
wages (outside of management) in a
flower shop. Why? They have a unique
talent and years of training and education.
Are they worth it? Of course — an
accomplished designer creates wedding
and party referrals and controls your
cost of goods. However, without an experienced
salesperson invested in your
services and designs, those skills are
wasted. The sales reps are the lifeblood
of a flower shop. They establish and
maintain customer relationships — and
they have the potential to destroy them,
too. They can increase sales with a mere
suggestion: "Would you like a balloon
with that order?" (For a $50 arrangement,
a $5 balloon addition equals a 10
percent increase in sales.) And they can
sour a relationship with a surly response
or failure to listen.
The power a salesperson has over
your shop's image and sales is no small
thing. Recognizing it is crucial to fair
compensation. Do I want a gum-chewing-
baggy-jeans-wearing student trying
to sell a $200 funeral piece to a grieving
life partner? No. I want a uniformed,
well-groomed, well-paid professional
with a business card and experience.
Experience is key; training is only a minor
factor. True sales skills come from experience.
Good sales reps also forage for
their own clients. They use Facebook and
Twitter and attend cocktail parties and
charity events to foster relationships —
personal and professional. Often, these
relationships develop when they are not
even on the clock. If shop owners don't
compensate them well, how can we expect
to retain them?
A talented salesperson takes on the
role of a consultant. Expert consultants
learn as much as possible about what
they sell: where it comes from, how it is
prepared and how to care for it. Premier
sales reps not only offer upgrades, but also recommendations,
with a
personal touch.
These recommendations
build rapport
and establish
trust. An expert
floral consultant
leaves no detail
unnoticed. We are in a business of details
and it all begins in taking the order.
Some shops and consultants, including
Team Floral of Tulsa, Okla., are big
fans of commissions. Many shops' financials
prove this incentive program works.
At Exotic Flowers, though, we do not
practice this. Veteran Entrepreneur and
Inc. magazine columnist Norm Brodsky
offers an argument against sales commissions:
People who are motivated by
commissions have the means to maximize
their pay, potentially at the expense
of other departments like operations
and billing. Instead of base plus commission,
Brodsky recommends paying
a salary plus a three-part bonus tied to
the success of the individual, the team
and the company. A veteran entrepreneur,
Brodsky's experience has led him
to subscribe to a few other controversial
business ideas, including: don't hire family
and friends (Google "Firing Carlotta,
Brodsky" for more) and competition is
good for business (Google "The More
the Merrier, Brodsky").
Almost all retail companies rely on
sales reps and customer-service agents.
The key is to have all your employees
work together for the growth of the
company. At Exotic Flowers, our top four
sales reps have 100 years combined
experience, and we flaunt that fact in
our marketing materials. The public is
tired of sales clerks who just collect a
paycheck — and sales reps are tired of
playing second fiddle to designers, when
it comes to pay. Now is the time to differentiate
our industry from other retail
organizations. Let's do that by leveling
the paying field.
Rick Canale, president of Exotic
Flowers in Boston, was named Floral
Management's 2008 Marketer of the
Year. E-mail: rick@exoticflowers.com.