Easter Lilies
Easter will be celebrated in many different ways within the city of Boston this April. Depending on a person's depiction of the holiday, various methods and tools will be used such as decorating eggs, displaying Easter baskets, hunting for hidden chocolate treats, attending religious services or maybe even hosting a feast of a pineapple glazed ham. Sure, it's pretty likely that our children will be anticipating a visit from the big white bunny but what else do we use in our preparations during this time of year? One custom that is popular in many homes this holiday is the Easter lily plant, which has it's own fascinating explanation as to why its demand is so high. I'll bet you'll be as surprised as I was to learn the different correlations that this bulbed beauty has tied to Easter and what makes this one of the highest produced greenhouse products next to the poinsettia, azalea and mum.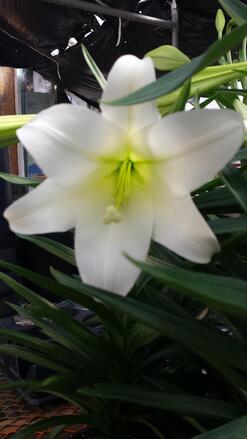 First of all, the physical attribute of the Easter lily is reason enough to seek this as a centerpiece or gift. The plant yields long tube-like heads that resemble a trumpet shape that stretches either flat out, down or slightly up. Leaves are also sleek, growing in a deep green with a silky texture that runs straight across the plant from its base to the head. Easter lilies were historically imported from Japan but began to decline during the 1940's when cultivators from California and Oregon began improving growing systems in their greenhouses. As technology developed, the bulb quickly became one of the U.S.'s highest demanded bulbs to remain shipped throughout the states and then exported across the globe. The bulb is systematically planted in pots during the fall and forced to grow during the winter so that they would be ready for a March or April crop. Because they could be harvested on domestic soil, the Easter lily has remained both easily supplied and economically reasonable in price. These two factors encouraged people to buy the seasonal flower and use it annually during their celebrations.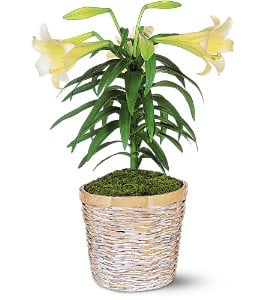 Other reasons that make the Easter lily popular is the meaning of the name, which means purity, birth and renewal-all thematic concepts of the Easter holiday. Religious scripture believes that these particular lilies grew from the droplets of sweat that Jesus made during his last hours. Flowers sprung to life from the perspiration symbolizing the rebirth of Christ, making the lily one of the highest regarded flowers in the Bible. Catholic artwork emphasizes this connection with several paintings including one of the Virgin Mary surrounded by white lilies while pregnant and also featured at her tomb. If you are planning on attending a service at your church, you can bet you'll see several specimens of Easter Lilies both lining the aisles and perhaps even planted in a cross formation.
If you haven't bought an Easter lily for your celebration plans, visit your local florist to find a healthy selection of potted plants or even cut flowers that make excellent centerpieces. Those lacking a green thumb will also love that these are pretty hard to kill, as they need only a little water to keep moist and a sunny space to sit.
Suzie Canale
Westwood, MA