It's Easter Bunny time!
Who can stand the wait as we're planning and plotting our to do's for the upcoming holiday! What's at the top of our lists? Well, our Easter basket necessities of course! We'll need the staples such as plastic eggs for the hunt and a pair of bunny ears to be festive for the children but what else should we be on the lookout for in order to make this upcoming April 5th the best Sunday ever?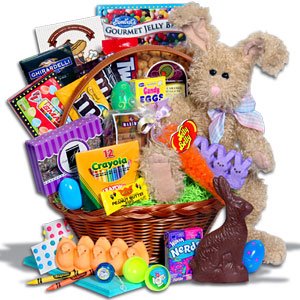 Photo credit: 1061evansville.com
I don't know about you but creating a fun and different basket for my boys is something that I always look forward to. Sure they always contain the traditional items of Cadbury eggs, rabbits molded out of chocolate and jellybeans in every shade of the rainbow but I want to add a little individuality to this year's creations.
In order to do this, I like to reflect on what makes the holidays treats so appealing for children. First and foremost, the premium factor is the brilliant colors that we see pouring from the brims of the containers. The spectacular spectrum brings and automatic positive sensation to the brain causing the feeling of excitement and joy. Because of this, I love to be sure to make their baskets look like a Crayola crayon set, adding shades of red, orange, yellow, green, blue purple, pink and any other tint that I might see.
The texture of the things I put in the baskets is another important issue when selecting treats. I like to always have egg shaped items but I also like to mix it up with hand wrapped specialty candies, swirl lollipops and beautifully foiled chocolate morsels. The interesting combination of the different heights and sizes causes a pleasing presentation instead of a flat looking bulk of candy. Take a look around your area and try to find a local candy shop or chocolate baker who might sell unique and distinctive options other than the regular supermarket and CVS stock of holiday wares.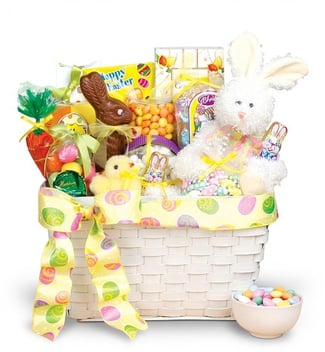 Photo credit; Gifttree.com
Don't be afraid to walk outside the "sweet" realm and incorporate things such as small spring themed stuffed animals, yo-yo's, customary toys such as paddleballs and jump ropes or little games and puzzles. One of my son's has an adoration for books, specifically written and illustrated by Mo Willems so I found and elephant and piggy novelty that I'll prop up with a copy from his series. For my older son, I think I'll make a trail of treats leading to a new basketball, his newest favorite sport this year.
The point is, never be afraid to try new themes that work for your kids. Make their Easter as special as they are by utilizing their interest and hobbies within their baskets. Be as sneaky as you can with candy trails and hiding spots and watch the joy of Easter egg hunting work its magic!
Suzie Canale
Westwood, MA