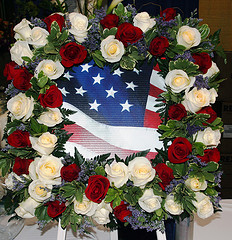 Memorial Day is a time to honor those who have lost their lives while fighting for our country. It seeks to reiterate the importance of respecting these soldiers who left their families behind to travel to foreign places in search of defending all American life and both secure and preserve the gift of freedom and independence. For many Bostonians, May 25th will be spent visiting the gravesites of loved ones and remembering the tremendous courage they possessed during their service. Customarily, Memorial Day is a holiday where we gift those who passed with a bouquet of flowers, plants or flags placed on their tombstones. While some are patriotically representative of a red, white and blue color palette, there has recently been a movement to change this traditional style. I appreciate this combination but I can't help but wonder what other designs might be possible for thanking our beloved troops? What if there's a way to perk up the Memorial Day sentiment with a twist of color and dynamic texture? These are some of the new looks that are starting to pop up in floral shops across the city.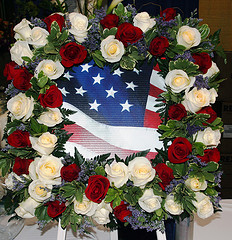 A spectrum of green has embellished several of the more popular Memorial Day arrangements, particularly for those who were members of the US Army. While still holding onto the basic red, white and blue sheen, designers are finding that a few stems of lady's mantle, octoberweed, and green berries help to materialize another level of depth within typically styled pieces. This added shade not only blends the other three colors for a greater eye appeal but will also display a larger presence while incorporating a special sentimental theme.
Since Memorial Day pieces are usually shades of the American flag, why not separate the pieces into beautiful bouquets of single color? Have your florists make three separate arrangements of red roses, white hydrangea and blue delphinium to create a sophisticated presentation. You can also request several smaller nosegays and allow each family member to place one each at the gravesite.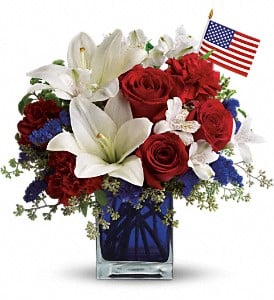 Although there is a wide range of colors that can represent the topic of "honor", there is considerable evidence that blue is the strongest tint to reflect this emotion. Several people believe that while blue is certainly a beautiful color, there aren't enough floral varieties to choose from. The truth is, agriculturalists are breeding more and more hybrids because of the growing demand. Delphinium is definitely one of the easiest to come by but asking for scabiosa, jasmine and bachelor buttons. For those looking for a plant, several florists now carry philanopsis plants that have conveniently been dyed blue as well.