The snow blitz of 2015 hit New England hard, covering our cars, houses and well, everything in site up to eighty-eight inches of snow in the Boston area. We survived Juno but if you're like me, you might need a little pick me up to help shoo away the winter blues. One way to accomplish this is to fill our living space with as much inspired growth as possible, namely flowers. I know I use flowers as a natural remedy for most woes but there is no denying the power of beauty and fragrance to boost our lowered moods and dispositions. Although we are experiencing the bitterness of the cold, there's a sort of beauty that emanates from the sparkles of white enwrapped around everything we see. Tiny crystals of light reflected in the sunlight and the impression of blanketed softness expels itself from the perfectly mounded bands of puffed snow. For me, it's a tough time of year too (I'm really a summer girl at heart) but even I can't deny the sheer magnificence of newly fallen flakes. The way I see it, if I can see impressive color, texture and design outdoors, why can't I copy that same feeling within designing winter inspired arrangements for my own home? After a few trial and errors, this was what I found to be the most successful combinations for this theme.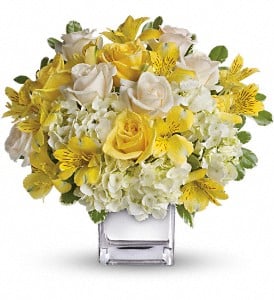 White hydrangea is the perfect variety for this type of floral display because it carries all of the appropriate characteristics to what we see happening outside. Besides toned in pure shades of white, the soft-pedaled head also comes close in proximately to the way snow impacts itself on the ground. By tucking in a few stems within a bubble bowl, we really don't need to add too much more than perhaps a sprig or two of lady's mantle or octoberweed. Not only will you love the presentation of simplicity but you'll also be pleasantly surprised as to how long this piece will last. Let's just hope the same doesn't hold true for all of that white stuff outside our windows!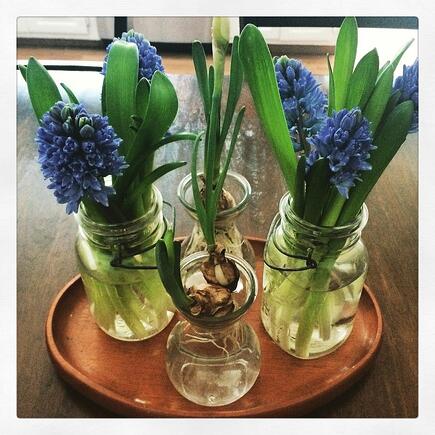 There's a new trend rearing its head around Boston flower shops and I've actually tried this on my own so I assure you-I'm just as impressed with it as they are. Bulbs are making a screaming comeback but are being grown and displayed in new ways. For instance, white daffodils or paper whites can be used indoors by placing them on the tops of narrowed bud vases. Fill the container with water high enough to reach the bottom of the bulb and watch the roots start to grow before your eyes. Place in a well-lit area and pretty soon a shoot will begin to extend upwards. I love using this as a bedside arrangement and adore how inexpensive yet fabulous this method is. Before you go out and buy bulbs, check your cellars for previously unused packages of grape hyacinth, tulips or any other springtime favorite. Situating the vessel near a warm heater also helps to surge a speedy flower creation.
Suzie Canale, Westwood, MA
Suzie created the above arrangement of bulbs and hyacinth.