Football fans are getting ready for their favorite day of the year next Sunday, the ultimate showdown between the New England Patriots and the Atlanta Falcons! Hosted in Houston, Texas within NRG Stadium, people are on the edge of their seats to find out who will win the 51st annual sporting event that is sure to cause quite a commotion since Tom Brady has yet to be defeated by the southern team. Another reason to stay glued to the TV is to watch how the quarterback yields his revenge after being suspended for the first four games of the season. Experts are predicting a spitfire competition to see who will be the recipient of the Lombardi Trophy so be sure to plan ahead with food, décor and of course, flowers!
If you're hosting this year's Super Bowl and are thinking beyond making a vat of chicken wings and nachos for your guests to enjoy, you might want to think about a little décor to go along with the menu. Team banners, t-shirts and color- coordinated settings are always fun but perhaps a few flower arrangements could be just what you need to spruce up your evening? Here are a couple of samples for both Patriots and Falcon fans to select from and if you know you'll have friends and family over who are routing for different teams, try a combination of the two to set an exciting Super Bowl mood!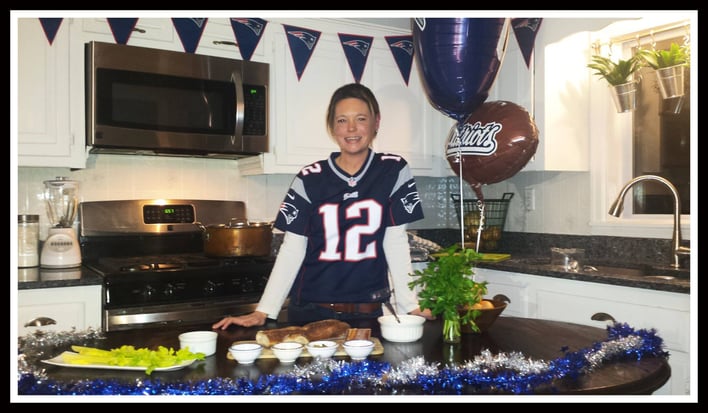 New England Patriots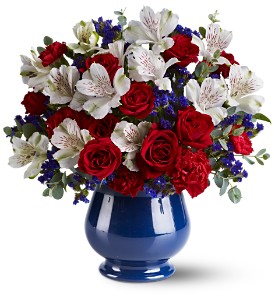 When coming up with design for floral pieces based on the Patriots, keep in mind that that there are three colors to play with: red, white and blue. This gives you options of either combining the three or placing single colors in vases throughout the area you are entertaining. Red roses, white hydrangea and blue delphinium are excellent varieties that will work well, either separate or together. Other substitutes can also include red gerbera daisies, white phlox or blue dyed pom-poms.
Atlanta Falcons
The Atlanta Falcons also have a similar color scheme going which will work really well if you're planning to create both for your party. Featuring again red and white hues, you can easily implement white daisies and red carnations for centerpieces for a festive yet inexpensive presentation. This team jersey also has black woven into the fabric, which can be interesting if you can find black millet, black roses or black calla lilies to incorporate within the bouquets.