I am huge baseball fan. Every July from 1979-1985, my favorite day was the Major League Baseball All Star Game. It was a rare treat to watch the best players in baseball all on one field. In every one of the those years, I got to see my favorite National League Catcher in the game. Gary Carter was even the All Star Game MVP in 1981 and 1984. He was a part of one of the greatest throws in All Star Game history when Pirates right fielder Dave Parker gunned down the Angels Brian Downing at the plate in 1979.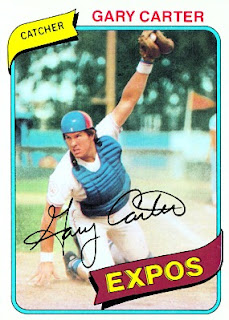 Carter was much more than a Hall of Fame baseball player. He was a Hall of Fame person. From his countless autograph requests that he fulfilled, to an infectious enthusiasm and impeccable character. Carter was someone you would want your kids to look up to.
"Today, the world of baseball lost a Hall of Famer, and I have lost a treasured friend. Anyone lucky enough to have been part of Gary Carter's world will agree ... nobody loved life in a bigger way than Gary. He seized every opportunity to savor what mattered most to him: his close-knit, loving family; meaningful, enduring friendships; an unbridled passion for baseball; and the fulfillment he felt from making a difference in his community. Gary's brave battle has ended, but his from-the-gut laughter will be heard and his vitality and spirit will be felt forever. I loved him very much, and I know he is finally at peace."
-- Davey Johnson, Mets manager from 1984-90, now manager of the Nationals
For Gary's funeral, Carter's family made a simple request that in lieu of flowers a donation be made to a select charity for children with autism. A noble gesture, but I feel they are missing a key component of the grieving process.
Research indicates that sympathy flowers may not only brighten and warm a funeral or memorial service setting, but also have a positive impact on the emotional well being of the bereaved, according to the Society of American Florists (SAF). The national floral trade association cites a 2006 behavioral research study conducted by Nancy Etcoff, Ph.D., of Harvard University, that underscores the importance of flowers in our lives and reveals some of the calming, fortifying feelings they can create.
The Harvard study reveals that flowers feed compassion and chase away anxiety and worries. The research participants lived with fresh flowers for just a few days and reported increases in feelings of compassion and kindness for others. Overall, people simply felt less negative after being around flowers.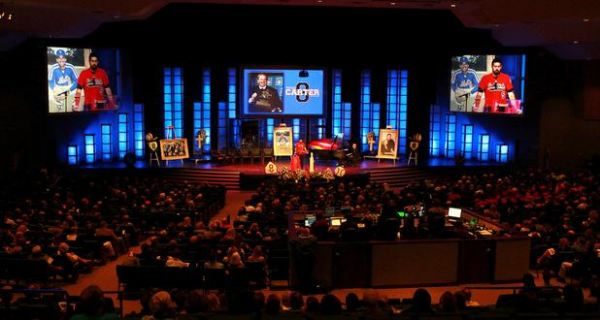 The flowers are not only for the family, but also for the guests. The Carter family has been kind enough to share Gary with us all for decades. I feel that being able to send flowers would have helped ease many of his legions of fans grief. As you can see on stage, a few corny flower arrangements in baseball shapes and homeplates.
As a Boston florist, I would have chosen to put all those odd and mismatched flower tributes outdoors to greet guests. Each piece would have had its own significant position of tribute. A funeral tribute means so much to guests and the bereaved.
As a Boston florist who knows funeral flowers and felt like I knew Gary Carter, I would have created a stage scape of flowers going from one end to the other. The colors for Carter's funeral would have been bright just like the person. I would have chosen varying heights along the stage. I would have used roses and lots of them. Gerbera daisies and sunflowers too as they exude happiness, just like Carter.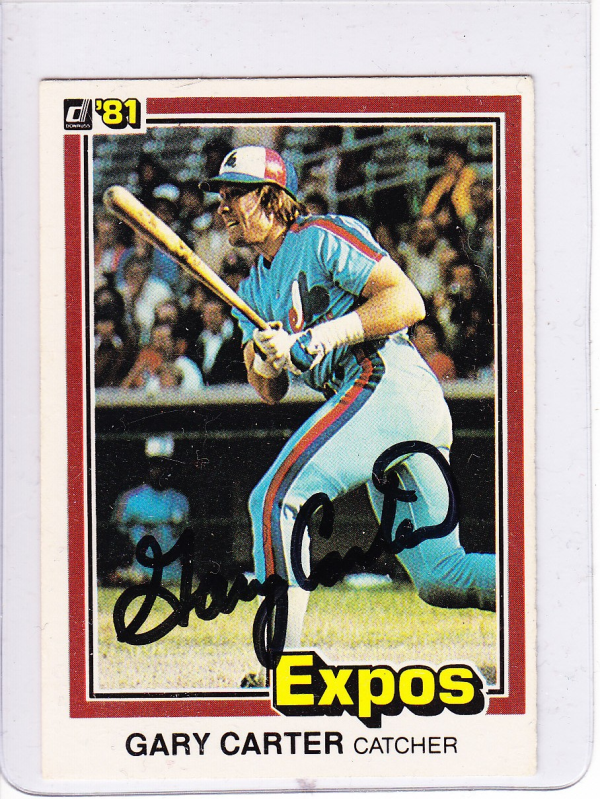 I was fortunate to have Carter sign this card for me in 1984. Thank you Gary Carter. You will be missed, but not forgotten.