There's nothing like a nice romantic tale to get one inspired about the changing of a season-especially when the story is about the Greek Goddess Persephone. If you remember your high school English studies when reading Edith Hamilton's Mythology, her name might resonate with you as the bringer of spring. Of course, how she became the symbol for growth and rebirth is quite interesting if you're not familiar with the lure, which entails abduction, war and love. Since these are the three essential ingredients to any great romance fable, the story of Persephone is ideal for all those enticed by the magic of Greek legends.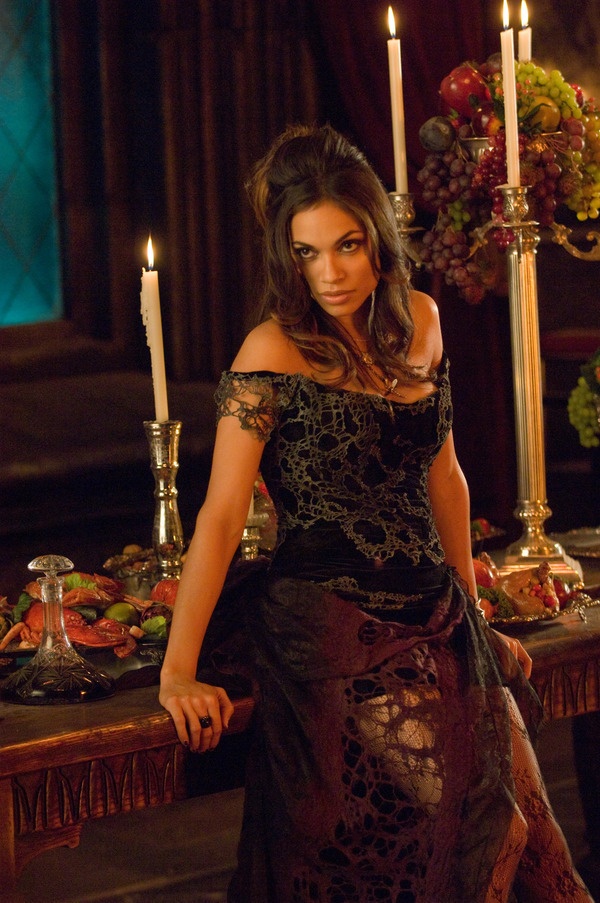 Rosario Dawson as Persephone in Percy Jackson
Persephone was the daughter of Demeter, the Goddess of Grain and Agriculture, who was responsible for the nourishment of man through harvest as well as the cycle of life and death. Diameter is often depicted as a strong female carrying a torch and a bundle of wheat while wearing a crown. Persephone's father was the superior God Zeus, the ruler of the sky and all of the Olympian Gods. He is usually identified as having long curly hair, iron muscles but being an older man in his late fifties to sixties. His idols are a scepter and thunderbolt and he is most commonly seen sitting on his massive thrown.
One day while Persephone was playing in a freshly grown field with her friends, she was stolen away by the underworld God Hades to become his wife. When her mother, Diameter found out that her daughter had been abducted, she killed the earth's harvest including flowers, plants and anything associated with agriculture. When Zeus was informed about the kidnapping, he had to appease the Goddess' concern and promised to rescue Persephone since nothing new would ever grow again until she was returned. Unfortunately, when Olympus was told that she had already eaten the forbidden food of the underworld, a pomegranate, Zeus had to allow the girl to stay with Hades for a portion of the year of six months. Although Persephone stays with her husband during the wintertime where the earth is cold and dark, she is promised to return to her mother each spring, which is marked by the blossoming of fruit, vegetation and a new beginning.