Delicious Choices for Festive Christmas Breakfasts
The children have awoken, the Christmas presents have been unwrapped and there is a joyful spirit that consumes the house. Everyone is all smiles and is anxiously waiting for the time to play with toys and trinkets found underneath the tree. It's the most magical morning of the year for many and the anticipation and energy surrounding this time can really work up an appetite for your family! While the holiday dinner has been in pre-preparation for weeks, we must not eliminate the specialty of serving a festive and delicious Christmas breakfast. This meal is sometimes looked over and forgotten because of the abundance of cooking that will be done later in the day but I can promise you there is a simple and easy way to nourish early appetites with yummy dishes that will not take an exhaustive amount of time to make. Try these suggestions to ensure your entire holiday is filled with merriment from the breakfast to the dinner table.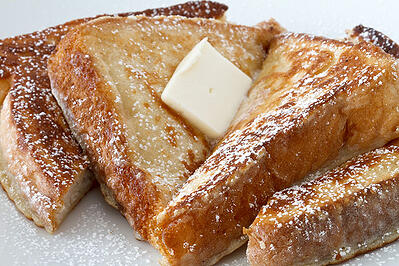 photo credit: thecookingmom.com
Eggnog French Toast
This is a great recipe that I found which is fast and takes very few ingredients, making it so easy to whip up in a hurry. Eggnog French Toast might sound a little decadent but really, it's the flavor that has made this meal perfect for the season. Grab 2 eggs and beat them until the consistency is soft. Add 2 tablespoons of pumpkin spice, 2 tablespoons of cinnamon and 2 cups of store bought eggnog. Whisk together and dip 10 slices of thick bread into the batter carefully coating each side. Then heat a skillet with a either Pam cooking spray or a pad of butter and sauté each piece until golden brown. Serve immediately with rich maple syrup and watch everyone dive into this lovely Christmas breakfast.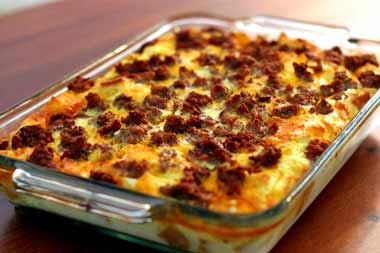 photo credit: simplyrecipes.com
Sausage Casserole
Oh, you will love this recipe that is sure to please even the fussiest feaster at your table. Simply preheat your oven to 350 degrees and heat a skillet where you will be cooking 1½ pounds of pork sausage until tender, draining the grease from the pork once ready. In a bowl, whisk 5 eggs with 1 teaspoon of salt, 1½ cups of milk and 2 teaspoons of mustard powder. After it's mixed thoroughly, add the sausage, 2 cups of breadcrumbs and 10 ounces of shredded cheddar cheese. Give the bowl another last stir to make sure that everything has blended nicely. Next, grease a casserole dish or square pan and pour in the egg concoction. Place in the oven for 50 to 60 minutes and let cool after the casserole is done. Slice into triangles or squares and serve immediately.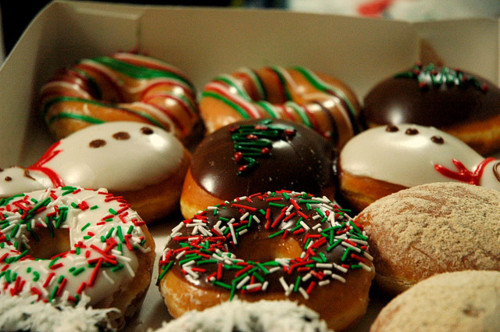 photo credit: lovethispic.com
Scones, Donuts and Muffins
Don't be embarrassed to outsource this meal for the sake of convenience, that's what your local bakery is there for! Select baked goods that reflect the Christmas season such as cinnamon, peppermint or sugar powdered frostings and toppings to add extra dazzle and delight. You'll be surprised at the wide selection and the wonderful holiday shapes that are usually present within the bakery's cases during this time of year. Buy your choices the day before to ensure freshness and sit back and relax on your Christmas morning!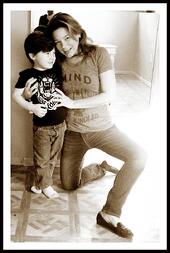 Suzie and Lanc, November, 2014 Westwood, MA
Suzie will be having Christmas breakfast at her home in Westwood with her two boys, husband and mom.