What is the top gift for women on Valentines Day? Is it a box of chocolates or a dozen red roses? Those gifts are certainly popular but lingerie remains the top requested item for the holiday. The reason is because lace and silk make a woman feel sexy, appealing and most importantly, wanted by her someone special. Now this can sometimes become problematic for the shy guy unwilling to brave it alone through stores selling undergarments. We have all seen that male customer enter Victoria Secrets with a hat pulled down over his eyes and that hilarious stutter when a sales person asks if she can help him find anything in particular. It can be a rough task but knowing beforehand exactly what you want to purchase takes a whole lot of pressure off. How are you supposed to know what she likes? Research is the key and here are a few tips to get you started.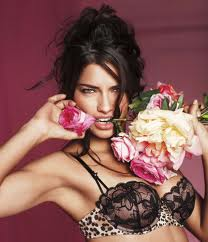 photo credits on this page Adriana Lima via Victoria's Secret
Color plays a huge impact when buying bras, underwear, teddies or nightgowns. Certain shades reflect certain personalities and role-playing so take a little time to notice what her tastes and preferences are in the bedroom. White can be a great choice which represents more of the "play hard to get" kind of girl but black might also be the way you want to go if she's more of an exotic or serious partner. Red works well for women who love playing the seductress and pink pairs well with the flirtatious type. Yellow and blue are your safety picks when you're not quite ready to choose a bedroom personality for her yet. If you really want to indulge in the fantasy, buy her something in purple, which stands for passion and sexuality.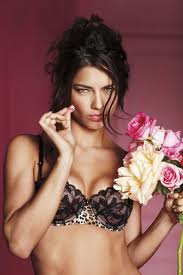 Body types can determine the right style for your sweetheart so it's another area that you need to pay close attention to. Take notice what her best physical assets are (legs, back, use your imagination) and select outfits that show them off. Silk slip nightgowns are really flattering on a full size woman as is a great bustier. Bra and panty sets are perfect for a woman with height and for the slighter gal, a teddy combination with wrap is the right choice. If she's on the petite side, try a two-piece thong and push up bra made solely of lace. Several lingerie companies suggest purchasing a robe to accompany the undergarments bought making this truly a romantic gift tailored specifically for your special someone.
So you've figured out a plan and now you need to know where to go. Victorias Secret is the heavy hitter in this category and has several locations around the Boston area including Copley Place, Newbury Street, Legacy Place and Faneuil Hall. If you want to try somewhere else, check out Intimacy, also in Copley Place, La Perla on Huntington Avenue, and Forty Winks in Cambridge. All of these companies carry high-end , beautiful sleepwear that also promises to "wow" your girl this Valentines Day!