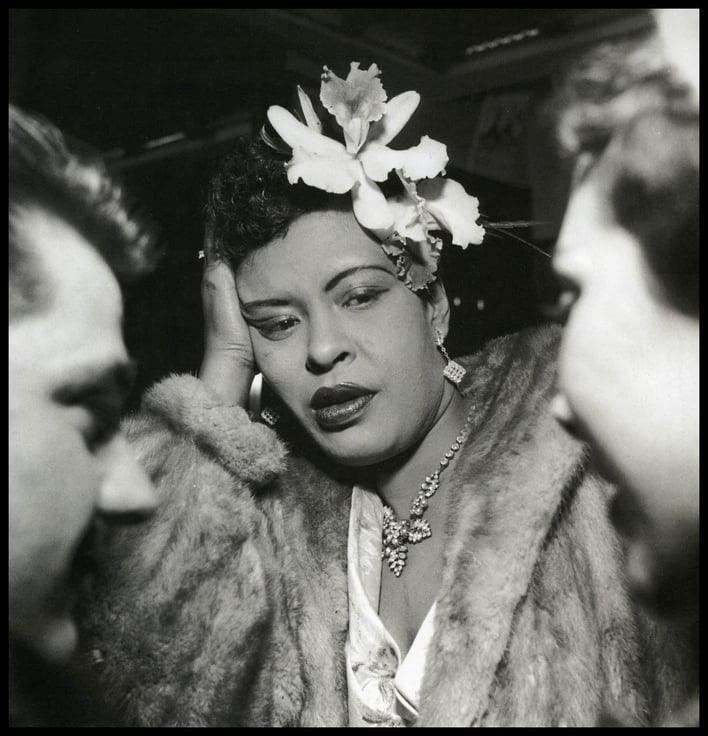 Charles Mingus, John Coltrane, Mary Lou Williams, Ella Fitzgerald, Billie Holiday, Herbie Hancock, Nat King Cole, Miles Davis, Keith Jarrett and Thelonious Monk are some of the world's greatest jazz artists of our time but besides music, what do they have in common? Sultry, sexy and romantic are all descriptive of these musical greats so it's no wonder they would look to something else with equally alluring qualities… Flowers have always played a big part in the world of jazz, sometimes by being represented as a stunning vase of white callas on a piano or a single gardenia tucked in a performer's hair. Jazz flowers can be a subtle accessory added to the stage or an eye-popping piece that becomes just as big a part of the presentation as the vocalist themselves. If you're an up and coming jazz player who is interested in what these famous artistic contributors adored for flowers, take a look at what it is the most likely bloom they had on their dining room tables.
Charles Mingus
-
"Flowers for A Lady"
was a big hit and it's all due to the talent behind the song and truthfully, his love for flowers, particularly gerbera daisies.
John Coltrane
- Coltrane had a way with passing a vibe and easing listeners into a state of relaxation. His cover album features a pink phalaenopsis which he derived many of his inspiration from.
Mary Lou Williams
- What a beautiful voice who enraptured audiences for years and years with her lacey and soft appeal. White Casablanca lilies were said to be her favorite which mimicked her unforgettable personality.
Ella Fitzgerald
- Ella was a swooner when it came to wrapping audiences around her little finger which was all due to her sultry voice and sweet presence with which she graced the stage. Gardenias were a preferable essential that she placed in her hats or hair.
Herbie Hancock
- Mr. Hancock is known for his "smooth operating" skills which is why he often was seen photographed with beautiful roses of all shades.
Nat King Cole
- Nat King Cole was said to have a wide adoration for all things that grew but was described as preferring tropical dendrobium orchids the most.
Miles Davis
- who could mess with the skills of this famous jazz player who enjoyed walking in the woods on his time off? This probably explains the reason why he was always partial to the loveliness of water lilies he often saw on the trails.
Keith Jarrett- Another rose lover, Keith Jarrett was known to place a vase of red roses in the rooms where he practiced to induce creative productivity. They are also often seen gracing the covers of his albums.