Did you know there are over 100, 000 different varieties of roses? Out of those, there's another few thousand species of red, which are still the most popular color requested for Valentine's Day floral deliveries. Now, you might think a rose is just a rose but some species have made a name for themselves based on their exotic beauty, durability and pristine formation. Due to these impeccable characteristics, growers devise a list of the most spectacular burgundy, maroon, crimson, scarlet, and ruby shades to promote to wholesale and retail customers around the world. While super stunners such as "Darcy", "Chrysler Imperial", "Eternity", "Black Magic" and "Samourai" have remained some of the top favorites by florists, a new breed is taking the industry by storm and is expected to become a hot seller for the upcoming Valentine's Day holiday.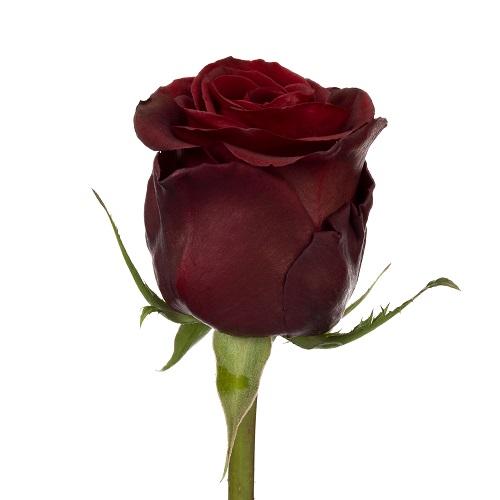 photo credit via Rosaprima
The Black Pearl Rose
The "Black Pearl" rose is becoming one of the hottest items this season and judging by its appearance, there's little argument as to why. The deep lush tone of blood red crimson is truly invoking, as is the flower's velvet petals that promote a romantic effect when paired next to candlelight. Being a relatively new variety, the Black Pearl is RosaprimaInc.'s premier pride amongst their other products and is referred to as the "crown jewel" of the rose world. Sold exclusively by the rose grower, this stunner is cultivated in the Andes Mountains of Ecuador and shipped to designers who utilize the stems in prominent arrangements saved for their most exclusive clientele.
Meanings of the rose extend from symbolizing "passion", "romance" and "love" making this a fantastic choice to gift to your sweetheart this February. Also keep in mind that stem length can extend from 40-90 centimeters and does not omit an aroma as do many other types of blooms